Three days ago I started on my second lace project, the Flower Basket Shawl designed by Evelyn A. Clark. Although I got off to a rocky start, I've been making some good progress and just began the 10th repeat in the body section. I don't know how many extra repeats I am going to knit yet, but I think that I am just going to play it by ear and stop when I get tired of it. Hopefully I will finish it later today or tomorrow.
The yarn I am using was purchased from Mind's Eye Yarn in Cambridge, MA when they were having their 40% off anniversary sale. It didn't have a tag but I am pretty confident that it is Prime Alpaca in Natural White. It is so soft, has a nice halo, and is a creamy white color. It is supposed to be DK weight, but it is much thinner than Knit Picks Merino Style. I am using US 7 needles, and the stitches are fairly open. I know that it will look better after blocking, but I really prefer tighter lace fabric. I can't wait to see how this turns out, because visualizing the finished project in lace knitting is still somewhat of a mystery to me.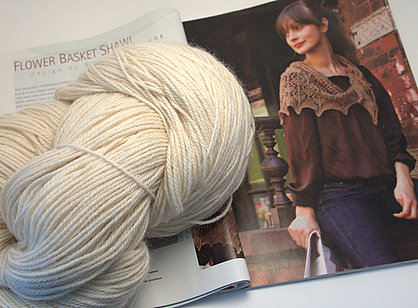 Lastly I wanted to know what is your favorite yarn to knit lace? Is there any that I just must try? Also I have read/seen that some variegated yarns can be a real no-no in lace knitting because it distracts from the stitch pattern, but which ones do you love to use? Any ideas would be much appreciated!