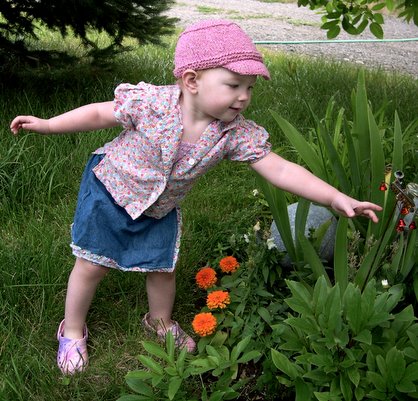 Project Specs
Pattern: Kiddie Cadet Hat designed by Grace and Me
Pattern Source: Kathryn Ivy
Yarn: Rowan Summer Tweed, less than 1 skein, Color #541--Blossom
Needles: US7 and US6 Denise needles
Date Started: 7/14/7
Date Finished: 7/16/07
Size: Toddler
Modifications Did only 6 rows of garter stitch at band instead of 8.

Believe it or not, there has actually been some knitting! I've been working on and off on this little hat for Camdyn the last couple of days. I'm glad she finally has a more summery Kiddie Cadet to wear around. This one definitely has a different look than the original I made from Cascade 220. It's amazing what a difference yarn choice makes! For this hat I chose Rowan Summer Tweed in Blossom, a nice pink color with flecks of yellow and lavendar. It creates a very textural fabric when knitted, and the little nubs of color really pop. Summer tweed is 70% silk and 30% cotton, and I could tell both fibers were present in the yarn when I was knitting it. It was a bit hard on my hands to knit and has very little elasticity. I also kept pulling on my stitches to try to get them to tighten which seemed like a lost cause because the nubs kept catching on each other making it difficult to keep even stitches. I ended up giving up on that, especially since when I pulled on the yarn I could really feel the delicacy of the silk under the pressure--I thought it was going to break! In the end, I do like the texture of the fabric and it creates a bit of a rustic feel that's perfect for a day on the farm!
This was the first time I've worked with Summer Tweed, and decided to give it a try when I saw it at Dancing Ewe Yarns & Teas, a relatively new yarn shop here in Ellensburg, WA. The shop has a really nice atmosphere, with gorgeous yarn displays and also a little area dedicated to teas. All the yarns seemed to be marked right at the suggested retail which is nice to see, especially since the closest LYS to me in Vegas has a ridiculous amount of markup. The Dancing Ewe has about every yarn you could think of, and everything is easy to find and organized by manufacturer. I bet if there was a yarn shop like this in Ellensburg when I was growing up I would have taken up knitting a lot sooner. If anyone happens to be passing through Ellensburg I would surely suggest a stop at the Dancing Ewe!

Camdyn and I head back to Vegas tomorrow and I may try to work on the Shedir hat I cast on for a few days ago--casting on is all I did b.t.w. I'm not really in the mood for cables though so I think I may let that one rest a bit. I'm also thinking of checking out the yarn shop again and seeing if there's anything there I would be interested in for a new project. I'm kind of kicking myself now because I really didn't put much thought into what knitting I wanted to bring on the trip so I left myself without many options. I brought very few needles and only a couple of patterns with me. I really wish I wouldn't have been so rushed to pack. I would have grabbed a couple of my Elizabeth Zimmerman books to read and find yarn for a few projects in them. I'm loving all the Baby Surprise Jackets I'm seeing on Ravelry and I think my neice Jojo would look adorable in one. And, after seeing this fantastic version on Flickr I might have to make her a February Baby Sweater too! I guess when I get home I'll be able to shop from my stash and hopefully find some good yarns for these projects ;) The next time you'll hear from me I'll be back in Vegas and ready to get back to my regular knitting and blogging schedule!