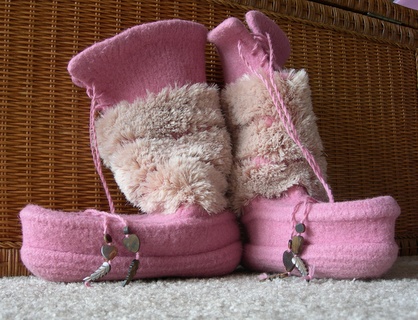 Project Specs
Pattern: Mowat Mukluks designed by Jennifer L. Appleby
Pattern Source: Interweave Knits - Winter 2005
Yarn: 6 skeins of Cascade 220 in #8834 Medium Rose; 4 skeins Jo-Ann Sensations Mink in #37 Camel
Needles: US13 24" circular needle
Size Completed: Large, U.S. woman's size 9/10
Date Started: 11/26/2006
Date Finished: 11/30/2006
Modifications: Substituting the recommended yarns with more affordable alternatives and finished off the laces with horn beads instead of pompoms.
When I first saw this pattern I felt pretty intimidated, mainly because I hadn't even seen a pair of knit boots before! But I figured I might as well give it a try and was pleased when they knit up so easily. The hardest part was finding a substitution for the ridiculously expensive Plymouth Foxy which retails at $27.99/skein. The pattern calls for 6 skeins to complete the pair of boots, and I was definitely not willing to spend over $150 on the fur let alone the whole pair of boots that I was planning to give as a Christmas present! I tried searching for examples other people had knitted, but there is very little information out there about this pattern. Maybe the cost of the Foxy is big deterrent. Alice and I shopped around for a bit for a reasonable substitute and eventually found Jo-Ann Sensations Mink, and I figured I might as well try it out. I ended up spending $12 (four skeins at on sale at $3/skein) for Mink, as opposed to the $168 it would have cost if I used Foxy!

After four days of intense and problem-free knitting, I ended up with a pair of giant floppy boots. I tried them on before felting and they went up past my knees! I began to worry these would turn out as pink furry monstrosities that you wouldn't wish upon your worst enemy, rather than a nice Christmas gift for my sister! It is definitely a little nerve racking not knowing or not if they would felt properly, especially since I didn't test felt a swatch before starting. I put off felting for a few days, but eventually gathered enough courage to throw them into the washing machine. I made sure to check on them at least every five minutes until they were finished. Luckily they felted evenly, and the Cascade 220 felted tightly around the Mink.
Once the Muks were dry, I followed all of the finishing instructions in the pattern, except for two minor things. Instead of attaching pompoms to the ends of the laces, I attached horn beads purchased from www.joann.com. I also decided not to add the embroidery on the toes. I couldn't resist trying them on to see how they fit. They are fun to wear around, the double sole makes them squishy and soft. However the uncovered soles can be extremely slippery, and it was a definite challenge walking around on hardwood floors. I read that you can sew on leather soles or spray stuff on them to give some traction, and would definitely recommend doing that if you have anything other than carpeted floors.
These boots were really fun to knit, especially since they are so unique. Even though they were destined to be my sister's (they are pink and furry, which really screams Diane), I think that I will probably knit a pair for myself in the future!