I promised myself that after I finished the Swat Team Kitties I would start on my first real lace project. I have had the Shetland Triangle on my to-do list for a while now, but I could never chose which yarn to use until I saw cauchy09's version on flickr. She knit hers out of Knit Picks Merino Style to create a fab, heavier weight, and inexpensive shawl. I ordered some and cast on yesterday.

Boy does it really fly off the needles! After working yesterday and some this morning I am almost half way through with the 7th repeat of the body section. Granted the rows are getting longer and longer, but it still seems like it is going fast. The pattern was really easy to memorize, and the chart is really clear and simple which I am thankful for because this is my first time reading from a chart. The pattern is coming along beautifully, and it is really easy to kit with this yarn. This really is a great beginner project. I hope to eventually work up to making the Myrtle Leaf Shawl from Victorian Lace Today. I am thinking that I will have my Shetland Triangle finished tomorrow, then I can try out my new lace blocking wires that I also got when I purchased the yarn.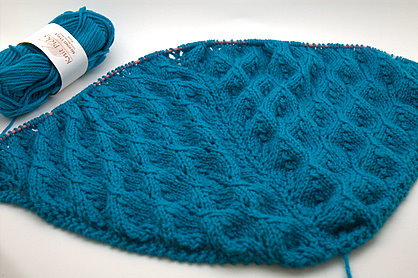 I also wanted to mention that Alice finally got her Ravelry account! Her name is AliceKathryn on there, so you should add her as her friend. I think she is still in the process of putting up her old FO's, but that can take a while huh. I still haven't gotten around to cataloging my yarn yet… There is so much that I want to do!