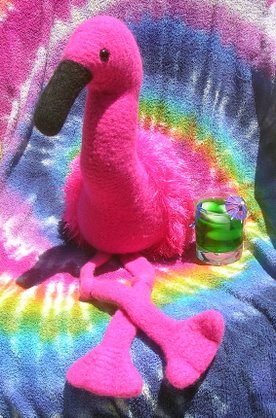 Project Specs
Pattern: Flamingo Beach Party (#221x)
Pattern Source: A Fibertrends pattern, designed by Debbie Radtke
Yarn: About 2.5 skeins of Cascade 220 color #9469, 1 ball Lion Brand Fun Fur in Hot Pink, small amount of Patons Classic Merino in Black
Needles: US 10.5 and 11 Denise needles
Date Started: 8/?/06
Date Finished: 6/27/07
Finished Measurements: 16" from bottom of body to top of head

Well, as you can see by the dates on this sucker, it was one of those languishing FOs. I did the majority of the knitting on this flamingo in August of last year. For some reason, when it came time to change to the black wool for the beak I abandoned this project. I picked it up again last month, when I knit the last few parts—beak, tummy panel, and legs. It took about an hour to finish up, so I am really not sure why I let it sit around for so long! When I was at Grace's this past week I took the opportunity to use her washing machine to felt this up (mine really agitates me with its lack of agitation, and thus I usually have to felt all my items by hand). Today I did the finishing touches, and I am glad to have this finally out of the UFO pile!
I am really pleased with how my flamingo turned out. I am still impressed with the pattern designing skills of Debbie Radke—who also designed the Huggable Hedgehog pattern that I have knit so many times. She really has an amazing understanding of short rows, and always creates a perfectly executed design. The only thing I would change if I knit the pattern again would be to knit the legs on DPNs in the round rather than having to seam them, but that's just a preference thing for me I think.
This guy is going to become a birthday present for my older (non-knitting) sister. She has quite a few flamingo things, so I figured this would be a good addition to her collection. Plus, it will make a fun toy for Jojo to play with someday when she gets older. I'm already thinking of ways I can change the pattern to make other birds. Wouldn't an ostrich be really cute with a really fuzzy body? Who knows when I'll get around to something like that (considering how long it took me to finish up this one) but hopefully someday I'll get to experiment!