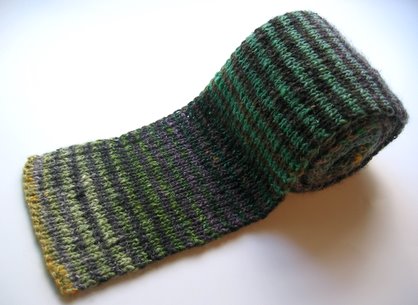 Project Specs
Pattern:Noro Striped Scarf
Pattern Source: I used the pattern outlined here by Brooklyn Tweed.
Yarn:Noro Silk Garden (45% Silk, 45% Mohair, 10% Lambswool), 2 balls #246, 1 ball each #243 and #247
Needles: US8 Denise needles
Date Started: 6/17/06
Date Finished: 6/20/06
Finished Dimensions: 5 1/2" wide by 77" long, unblocked
Modifications: Went up a needle size to US 8.

Well, I think this is a Father's Day present that was worthy of waiting a bit for. I am amazed that such a simple concept can look so impressive and also be so exciting to knit! I just couldn't put it down! From the minute I cast on, I knit on this scarf in every free moment. I would definitely consider knitting a scarf like this again, especially for a gift, because it knits up very fast and really gives that ""Wow!" factor. This yarn is truly irresistible, and I like it even more this time around. It also seemed like these few skeins of Noro were a bit softer (not to mention less knotty and twiggy) than my previous bunch for the Clapotis.

There's only one little beef I have with the yarn this time. Because of the differences in yarn weight throughout the skeins, I ended up with a few areas that are noticeably wider than the rest of the scarf. It's most obvious when you lay it out to take pictures, though I don't think it will be a big deal once worn. I think I will leave this scarf unblocked for now, as the ribbing really makes it cushy and cozy.

I used almost all of my four skeins. I did take out two sections of yarn when the skeins merged at exactly the same shade, but even with that I have very little leftover. For the most part I just trusted the process and let the yarn do the work. I have to say there are my favorite sections of color though. At one point, a bronzy-brown and a muted teal are striped against silver and a blue-grey and it really is a gorgeous combo.
What matters most, though, is that the recipient is happy with the gift—and as far as I know, Kenny is very pleased. It was actually cool enough here in Boston last night that he sat around with it on for quite awhile last night. I'd have to say there's really nothing that could get better about this project!