Alice and I have actually got some knitting done in the past few days. I finished up knitting the Marsupial Tote from Stitch n' Bitch for my friends birthday. All I need to do is felt it now, so hopefully I will get around to that tonight or tomorrow. I am going to start art the La Luz Eye Mask from Handknit Holidays today and will take a picture of my work soon! Also Alice has been working away on her scarf and is over 5" long. I love how it is turning out and I may just have to make one for myself.
I also wanted to show off a teddy bear I knit a while ago…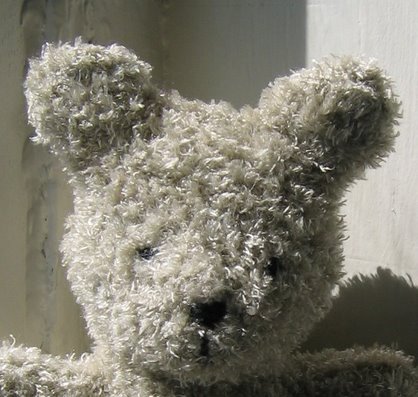 Project Specs
Pattern: Harry Bear
Pattern Source: A free pattern from Berroco
Yarn:Berroco Chinchilla (100% Rayon) in #5657 Oyster, 1 ball
Needles: US8 Denise needles
Date Started: 9/18/06
Date Finished: 9/20/06
Finished Dimensions: 11" tall from feet to top of ears
Modifications: None

A while ago I was looking for a good free teddy bear knitting pattern, but it was pretty difficult to find one that suited my tastes. The only two that I thought were okay were Bubby from Knitty and Harry Bear from Berroco. Still there is something about both of those bears that looks a little off; I think that it is the decreases at the top of Bubby's head and the strange lopsided embroidery of Harry Bear's face that make them look strange. Both could be really cute if done right though, and I figured I would give Harry Bear a try when Alice gave me a ball of Berroco Chinchilla.

The pattern was simple to knit. The body is knit in two pieces, a front and back and shaped with short rows. The pattern includes a really clear instruction on how to do W&T so you could easily make this bear if you are a beginner. It is a bit hard to see your stitches using Chinchilla though, and if you drop a stitch, you can almost forget about getting it back. After I knit the two pieces I seamed them together using a simple whip stitch. The seaming is easy because it is hidden by the yarn and you don't have to be at all exact. I stuffed the bear fairly lightly so he is soft and squishy. The hardest part was embroidering on the eyes and face using embroidery floss. It is so difficult to embroider on this yarn! I can see why the one on the Berroco website doesn't have the best face, but I am happy with how mine came out.
I think this little guy turned out so cute, and the yarn is really soft. This bear isn't a toy for children even with the embroidered face. The yarn just sheds way too much and you could pull out little pieces of fiber. I wrote a full review of Berroco Chinchilla if you are interested.
Since I made this little guy I have came across several cute bear patterns for sale that I want to try out. Fuzzy Mittens sells lots of knitting patterns for different animals including two different bears. Fiber Trends has the Marigold and Baby Bears patterns, which are felted. Jess Hutch has a pattern for Henry Bear in her impossible to find Unusual Toys for you to Knit and Enjoy booklet (you could probably just modify her Kate if you really wanted to make it without having the pattern). There is also a cute bear in Last Minute Knit Gifts and Bobbi Bear from Blue Sky Alpaca. I don't know when I will have the time to try all these patterns out but I would love to make them sometime in the future! If you have any favorite teddy bear knitting patterns, please share and leave a comment!