My new addiction to Ravelry has got me thinking about some of my past projects. There are several that I really love and I thought that I might as well share! So here I go…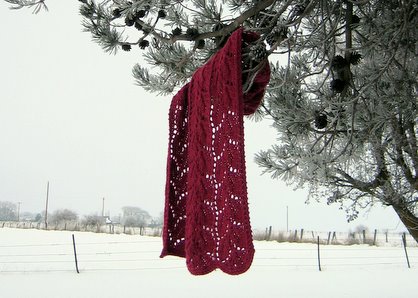 Project Specs
Pattern: Liesel
Pattern Source: A free pattern from Yummy Yarn
Yarn: Reynolds Rapture (50% silk/50% wool) #808 Red, 3 hanks
Needles: US10 Denise needles
Date Started: 11/21/06
Date Finished: 11/24/06
Finished Dimensions: 60" long x 8" wide
Modifications: Just changed the yarn and needle size.

The Liesel scarf was the first scarf I ever knit, and I guess the only time I ever knit lace. For some reason I never really considered this lace though, maybe because the yarn is bulky. Maybe it isn't even actually lace at all… what do I know! Is lace anything with eyelets? Either way I absolutely love the way the way this scarf turned out, and I would definitely use Reynolds Rapture if I make this again. The yarn felt luxe and the color was really beautiful too, and I was shocked when I saw that they were calling it red! It is more like a deep pink, raspberry color, and not red at all (at least my dyelot wasn't)!

I originally started knitting on US9 needles, but it turned out to be just too tight. I frogged that and restarted using US10s and it looked perfect! The pattern was really easy to follow, and by the end of the scarf I pretty much had it memorized. It was a lot of fun to do all of those YOs and decreases; I think it created a great looking scarf! It is pretty substantial, not light and airy, but it isn't too heavy either. Before blocking it was a bit curled and misshapen, and since I hadn't knit anything like this before I didn't really know how it would turn out. I let it soak for at least 30 minutes, allowing the silk fibers to get thoroughly wet, then pinned it out on my bed. It was amazing to see how much better the pattern looked after it was pinned into place. Each of the leaves really popped and I loved the little wavy knit column down the center of the scarf. It grew to 60" after blocking, which is a good length for a scarf, but I wish it was just a little bit longer.

I gave this scarf to my aunt last Christmas, and it was very well received! I have heard that she wore it all the time in the winter which makes me so happy. Isn't it nice when people really appreciate handmade items? If I were to make this scarf again I would use four hanks instead of three, but that is the only thing I would change. This pattern is really fun and you could probably use any yarn you wanted!
Lastly, and totally unrelated to knitting, it seems like there is a problem with the blog software that we are using. It sometimes thinks that there are more comments on posts than there actually are. It started last night and will probably continue until Si can fix it for us (which will hopefully be soon!). I guess you get what you pay for, and the software we're using is free.