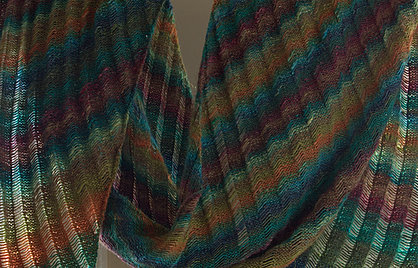 Project Specs
Pattern:Clapotis
Pattern Source: Designed by Kate Gilbert for Knitty
Yarn: Noro Silk Garden #228, 8 skeins
Needles: US8 Denise needles
Date Started: 5/25/07
Date Finished: 6/04/07 but didn't block it until 6/10/07
Finished Dimensions: 71" long x 18" wide
Modifications: Omitted stitch markers by purling stitch to be dropped, twisted stitches on each side of dropped stitch on both knit and purl sides, and added 6 extra repeats in Section 3.

I wish I wouldn't have waited a week to block this bad boy because I absolutely love it! I swear it wasn't just laziness that was keeping me from finishing it up; I was waiting for my Kookaburra Woolwash to arrive from Knit Picks, but it was just taking so too long so I went out and bought a tiny bottle of Eucalan Lavender. I love the smell of that stuff! This was my first time washing a garment with woolwash. I usually use plain old dish soap, but that requires some rinsing and I am always paranoid of felting. I think that woolwash was definitely worth the investment, and it helped soften my Clapotis and left it smelling great!
Like Alice I didn't pin it out as I blocked it. I just laid it out in the general shape I wanted and left it to dry. Everyone who told me that it would become flat after blocking was right, but I really like it this way! I liked it before blocking too though when it was curly, but now the dropped stitches are much more visible and the drape is wonderful! When I wear it there is still some curliness at the bottom edges. It really feels light and airy but is also super warm. I am in love!!

The knitting was really fun too! I thought that the Clapotis pattern was going to get too repetitive and I would lose interest, but I was actually really excited to knit the whole way through. I don't know if was the dropped stitches or the beautiful Noro Silk Garden, but I think this is one of my most favorite knits. I decided at the start that I was going to try to match the stripes so they always repeated in the same order, and it was surprisingly easy to do. I think 6 of the 8 balls transitioned directly into each other, and the other two I had to cut out only one color section. However now I have several tiny, single colored balls laying around. I am sure I will find a way to use them though! If I make another Clapotis from Silk Garden (and by if I mean when) I don't think that I will try to match stripes. I think the ones that are randomly put together are just as beautiful, and it would save some yarn and extra work. I am really happy with my yarn choice, there was some vegetable matter, but I was easily able to pick it out as I came to it. I have heard that people think it is too scratch, but I don't think that it is a big problem and I feel comfortable wearing it around my neck. I got a chance to wear it around my apartment a few days ago, while it was cold and rainy here, and it is very warm and fun to wear.

I ended up completing 6 extra repeats in the straight section of the pattern. It is really long but I love it that way! I don't know if the skeins of Silk Garden that I got had extra yardage in them but for some reason I really only used 7 skeins worth of yarn. I think that 7 skeins is usually exactly how much you need to complete the normal amount of repeats. I knit into the 8th skein, but that is mainly because it required a little extra yarn to match the stripes. It is really strange that Alice got shorted yarn and I got extra, but I won't complain. After blocking my Clapotis ended up being 71" long and 18" wide. I guess it is a little thinner than the dimensions given in the pattern, so maybe that is why it ended up a bit longer?
I would highly recommend twisting both of the stitches next to the dropped stitch, on both the purl and knit sides. I think that it makes it look so clean and neat. I don't think that there is any need to mirror the twists though. Dropping the stitch was my favorite part of making my Clapotis, and I don't think I have used my seam ripper so much (at least not since sewing for 4-H). It is seriously a must have tool for dropping the stitches. I also found it was a lot easier to drop the stitches with the purl side facing.
I know that I will make another Clapotis in the future, probably even this year! It was really fun and satisfying. Before I started I was intimidated, maybe because so many people had made one and I just didn't want to screw it up, but I found out that it wasn't difficult at all. This is a really satisfying beginner project that can made from so many different yarns to create a beautiful variety of looks. I will definitely make another one out of Silk Garden, but I also want to try out other yarns like Brooks Farm Four Play or Lorna's Laces Lion & Lamb.