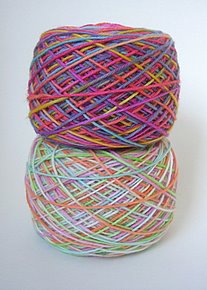 Hey everyone, it's give away time! For any of you who like the Chevron Scarf that I finished up last week, here's a chance to win yarn to make one for yourself! I know I would never get around to making anything out of this yarn anytime soon, so it's your gain. Who could pass up free yarn?
What you'll receive is two 50g balls of KnitPicks Bare Superwash Fingering Weight Yarn that has been hand-dyed by me. This is enough to make a scarf exactly the same length as mine was, which turned out to be 86" after blocking. This yarn is bright, as you can see, but if you don't love it yourself it would surely make a great gift for someone!
Ok, so all you have to do is leave a comment on this post, telling us your favorite yarn. The contest will run through next Sunday and we'll draw name from everyone who entered. Make sure you have a link to your blog, or an e-mail, that we can contact you at if you win! Good luck!