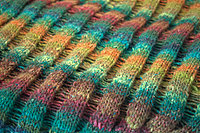 I have been steadily working away on my Clapotis and it has grown considerably since I last posted about it. I have completed the 13 repeats called for in Section 3, plus an additional four. After Alice told me about her yarn shortage problems I got a bit nervous and went out and picked up two extra balls of Silk Garden, but it turns out that I didn't really needed them. It seems like I could have easily done three extra repeats and the decrease section with the yarn I had. I guess my skeins must have had extra yarn in them. Now that I have these extra balls of Silk Garden laying around, I am just going to make a super Clapotis, but that's okay because I like my scarves/wraps to be a bit longer. Also I wanted to thank Tom for pointing out that the purl side is actually the right side! I don't know why I had never realized this before when looking at the pictures on the pattern… I guess I am just so used to people showing off the knit side of their Clapotis! I really think both sides are beautiful and it could be worn with either side out which is always a big plus for a scarf/shawl/wrap pattern.
This morning I dragged Si with me to the 10th anniversary sale at Minds Eye Yarns. It just started today and all the yarn in the shop is 25% off. There is lots of beautiful stuff like some Noro Kureyon and Silk Garden, a variety of Cascade yarns like 220, 220 Superwash, Magnum, Baby Alpaca Chunky, Pastaza, all sorts of spinning fibers dyed and undyed, and lots more. Plus you get entered into a drawing for an Ashford Elizabeth 2 spinning wheel. Today was the start of the sale so there was tons left, and I may just have to take a trip back there later this week. I ended up buying 11 skeins of Silk Garden in #84, 1 skein of Kureyon in 164 for a Lizard Ridge, 1 skein of Cascade 220, and then more 4 balls of Silk Garden for Alice. I don't really know what I am going to do with the Silk Garden at the moment, but I have really loved working with it so I figured I might as well stock up! If you're near Boston you should check out the sale, they don't have the greatest variety of yarns but it is still worth stopping by.
I can't believe it is already June! Three people (relatives and friends) have birthdays this month and I haven't started making any gifts yet! I already know some of the things I am going to make and have the yarn already so at least that is a start. For my grandma I am going to make the La Luz Eye Mask from Handknit Holiday using Fiesta La Luz Mulit in the Clematis colorway. I better keep what I am making for my friends a secret for now so I don't ruin the surprise! I will post as soon as I make them though :). I better hurry up and finish this Clapotis so I can knit these things on time!