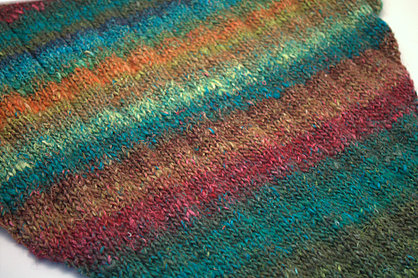 That's right, my Clapotis is growing like a weed… a very slow growing weed. I finished Section 2 last night, and am currently done with two repeats in Section 3. I really love how it is coming together and the colors are even better than I originally though! It turns out that there are some shades of brown in there too which gives it a great fall feel. I haven't encountered any problems, other than coming across a knot that I hadn't caught earlier.
Alice is definitely knitting it faster than me, and I am no where near one Section 3 repeat an hour. Maybe it is the weather that is slowing me down, considering it was in the mid to upper 90's on Friday here in Boston. I guess this is a sign of the summer to come, and I am not looking forward to it! At least it is supposed to be cooler today and throughout the next week. Okay enough of the Boston weather report sorry!

I will be going out to celebrate the Memorial Day weekend by going to a BBQ. I will take my Clapotis with me, and hopefully I can get some good quality knitting time in. Plus it will give me my first opportunity to take out my new knitting bag. I bought both the Duo Nocturne Doctor and Carry On bags from Stitch Diva Studios about a month ago. I love the black tooled leather, and the Doctor bag is the perfect size for carrying my current knitting project and whatever miscellaneous personal items I might need. I definitely need to start using it more by taking my knitting to the park! There are lots of great little details on this bag like the key charm and little key zipper pulls, as well as all of the amazing hand tooling details. I have never really been into purses, but this is one I absolutely love.
Lastly I wanted to give a you a heads up on an amazing deal on Amazon. The books Knitting Nature and Last-Minute Knitted Gifts are combined into a set for only $10.98! How can you pass up a deal like that? I couldn't when they were a little more expensive, so hopefully I can take advantage of Amazon's Post-Order Price Guarantee. I got these books a few weeks ago and I definitely think that they are worth $5.50 a piece. The photography in Knitting Nature is beautiful, and there are a lot of patterns for sweaters, tops, and coats (there are also a few patterns for different types of garments too). Last-Minute Knitted Gifts has a wider variety of patterns, including scarves, toys, men's and women's tops, hats, baby items, and more! You should definitely check out this deal if you haven't already.