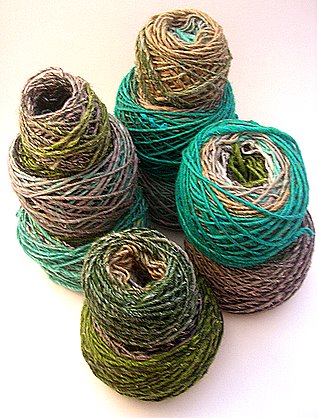 Well the backlog of UFOs is diminishing, so that means time for something new! What you see here is 7 skeins of Noro Silk Garden that is destined to be a Clapotis. I'm pretty excited for this project. Not only is the yarn gorgeous and the pattern a classic, but Grace and I are each going to be starting a Clap at the same time! It should be fun to compare notes, pictures, and thoughts along the way!

The yarn I'm using is Silk Garden in color #208. It's a great mix of teal, greens, beige, grey and black. I really love the colors in this yarn! I've researched the Clapotis quite a bit on Flickr and around blogland, and considering there are thousands upon thousands of finished Clapotises it seems there is an endless amount of information! I'm planning on twisting my stitches on both the knit and purl sides, which I saw an example of on this blog. There are also a few other tips I've picked up in my research, like purling the stitch that is to be dropped, to eliminate the insane number of stitch markers. And to eliminate having excess yarn (or run out of yarn too early) I plan on weighing my progress after the increase section, knitting the straight sections until I have the same amount of yarn left for the decrease section, and then finishing it off.
I think Grace and I decided that we're both going to start on Friday. Today in preparation I wound all my Noro skeins into yarn cakes so that I could catch any random knots before starting—which I have heard Noro is notorious for. I did find 3 knots in the 7 skeins, so overall it was better than I expected because I had prepared myself for the worst! Now I think I am ready to go bright and early Friday morning ;)
So, I'm just curious how many of you have knit the Clapotis out there? I know we're pretty late in the Clapotis game (considering the pattern was released over a year before we both learned how to knit!), but do any of you have a Clapotis on your to-knit list? I'd love to hear any other tips you have for knitting this pattern, and also if anyone wants to join in and have a mini knit-along with us, I'd love to be able to see your progress along the way!