I took a break from knitting/felting toys to spin some of the amazing roving I got off ebay. Barbara Batson has some of the most amazing hand painted wool, silk, and mohair roving, and you can get them at amazing prices! This is the third order of wool roving I have received from her. I ordered 4 oz of merino painted with gold, cobalt blue, and raspberry. There is some color mixing to create pinks and oranges which are gorgeous.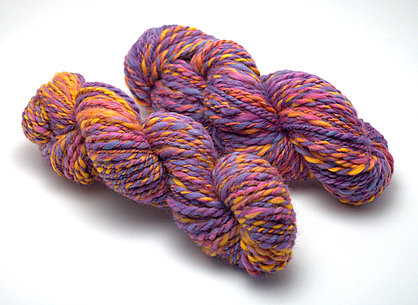 I spun this last night. I worked on it pretty hard and probably spun from 5 pm to 1 am off and on. I was working on a Jr. Mint high, since Si brought me some when he got off work. My fingers were really hurting afterwards because the drop spindle got really heavy with all that yarn wrapped on there. I learned my lesson and I should definitely only spin half of that before taking it off the drop spindle; it was just too killer on my fingers. I also dropped my spindle as some point last night and bent the hook. It isn't a big deal but it was sad! I am afraid my spindle will be a little off balance now. I am going to try to bend it back with some pliers tonight.
I tried to spin it thin because I wanted to ply it to create a worsted weight yarn. This morning before plying, I wound it into a yarn cake. Usually I follow the instructions on Mielke's Fiber Arts website on how to wind the yarn onto your hand to get it ready for plying. Plying from a yarn cake is easy, but I had a problem with pulling out too much yarn then it would get tangled and messy. I was really happy with how it turned out after plying though! It ended up being mainly heavy worsted weight, and the two hanks combined equal about 150 yards. I've named this yarn Tainted Love, after the Soft Cell song, because I was listening to 80's music the whole time I was plying it! Now all I need is the perfect knitting project so I can use this yarn…

I just couldn't resist showing off the mohair roving I also ordered from Barbara. This is the only non-wool roving I own, and I am a lost as to what I should do it. Does any one know how difficult it is to spin mohair? It seems like it might be a little scratchy if it was spun just by itself, so I am thinking maybe I should card it with some white merino. I got 4 oz for $8.00, I think that is a good deal but I don't know anything about mohair really. Anyone have any suggestions on how to use this?
Lastly I had to thank Kari at Crafty Ginger for posting a blog spotlight about KathrynIvy.com! We feel really honored to be showcased on her beautiful site! We just celebrated our one month anniversary, and it has been an amazing ride so far.