Yesterday I finished up this little guy. It is another one of the patterns from Crafty Alien's Buggin' Out! Volume One pattern. Now all I have left to make from it is the ladybug, which I will probably make sometime this weekend.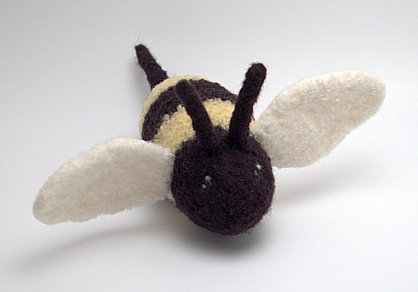 Project Specs
Pattern: Bumblebee
Pattern Source: Buggin' Out! Volume One from Crafty Alien
Yarn: Patons Classic Wool in Black, Maize, and Winter White
Needles: US10 20" circular needle made from Denise Interchangeable set
Date Started: 5/15/07
Date Finished: 5/16/07
Modifications: Needle felted the eyes on using scrap pieces of black and white Patons Classic Wool yarn.

This little guy was just as easy to knit as the ant, and actually requires less work since you don't have all those legs to knit! The pattern was really simple and clear, I think anyone, no matter your skill level, could easily knit this. The stinger and the antennae are i-cords, and the rest of the body and wings are knit flat then seamed before felting. I love how Patons Classic Wool felts. Winter White felts amazingly well, and I would recommend it for anyone who needs a good white felting wool! However I did have a problem with the black migrating into the yellow stripes, and the transition between the two colors became a little muddy.
After he dried, I stuffed him again then seamed up his belly using a single ply of matching wool. That is my new favorite technique for seaming felted items because it really creates an invisible seam!! I spent a good portion of yesterday afternoon trying to tweeze and snip out those black fibers that ended up in the yellow. I was able to get some, but I gave up because it just taking forever! I actually like the border between the two colors to be a little blurred, but the black just migrated too far into the stripes. At least I was able pick out some of the most noticeable fibers and it did make it look better. Does anyone have any tips on keeping colors from migrating when felting, because I'd really love to know them! I attached both the wings and antennae with single plies of matching yarn then needle felted in the ends to secure them.

The finishing on the bee didn't take as long as the ant, but putting on the eyes was definitely the hardest part. Since the face of the bee is already black, it is really difficult to define the eyes. I needle felted on different shade of black wool, but you can't really tell. I needle felted on the white dots on the eyes, and it works, but I can't say that I am completely satisfied with the results. I think the easiest and best way to go would be to use small plastic safety eyes. I wish I would have thought of that earlier! Anyways I don't know if I would make another one of these. It was fun to make, but I just like the ant better.
As one last note, I realize that both Alice and I have been making a lot of felted toys lately… I don't want you to think that this is just becoming a felted toy blog!! I will lay off them for a while I promise, although I know Alice has another toy in the works right now. Sorry, I've gone a little toy crazy I guess! They are just one of my favorite things to make (and they are so cute!).