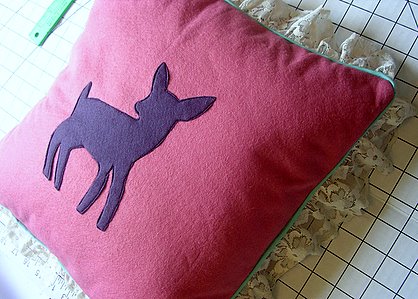 This little pillow is what I got to work on yesterday during Camdyn's nap. It has been a long time since I got to sit down with my sewing machine! I really miss it and the instant gratification that comes from sewing. I made this pillow in less than an hour from start to finish!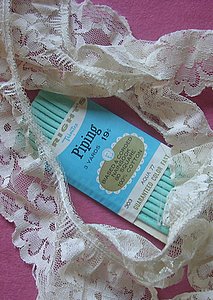 I used 100% wool felt for the pillow cover and appliqué, as well as vintage piping and lace. I really think the materials that I used make this pillow. Pure wool felt seems so luxurious, I just wish it wasn't so darn expensive! I was lucky to find the few colors that I have of it on clearance for less than $6/yard over a year ago, but I haven't been able to find it for anywhere close to that since. I get a kick out of the packaging that the piping was in. I don't see a year anywhere on it, but it was only 19 cents originally. There are also instructions for an "Easy-to-Make Bridge Table Cover" on the back of the label! Sweet!
It's really fun for me to make and buy things for my craft/guest room. I want to have a totally different feeling in this room than my normal style (which is more modern). I hope it turns out girly and comfy and a great place to relax when it's all done! I few more goodies are on their way to me in the mail so I can't wait to get cracking on the other projects I'm hoping to do in here!