I just wanted to quickly tell you that today is the last day to vote in the Craftster Felt Inanimate Object Challenge. I entered the model Space Shuttle, and sadly I am getting whipped. If you haven't voted yet, this is your chance! Now onto the real post...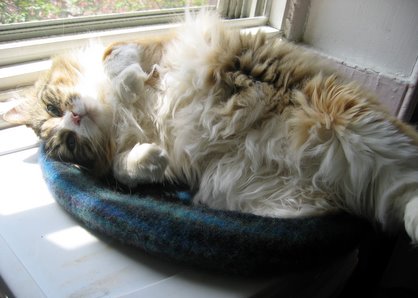 Project Specs
Pattern: Kitty Pi
Pattern Source: A free pattern from Wendy Knits
Yarn: Noro Big Kureyon in color #12
Needles: US11 dpns and 20" circular needle
Date Started: 5/8/07
Date Finished: 5/12/07
Modifications: None

The first Kitty Pi is now dry and currently in use! I finished the knitting on Wednesday night. It really went pretty quickly, but it was just mindless knitting in the round type work. Not the most exciting project but it was easy and something you could do while watching TV. Once I finished knitting it, it looked like a oversized floppy Rasta hat or something. On Thursday afternoon I felted it. It felted up quickly and evenly. I really like how the Big Kureyon fuzzed up, and it seems to have gotten a bit softer. It created a really nice tight fabric with pretty much no stitch definition left. I stretched it over an empty terracotta planter as it dried. I think the hardest part of this whole project was trying to find something that was the right size to stretch it over! When I took it off the planter the sides kind of fell in towards the center though. I don't know how to get them to stand up straight, but I guess it doesn't really matter.

The cats were totally uninterested in it when I set it out on the floor for them. But today I moved it to their favorite spot in the sun, and now they've all laid in it! I think Boggle likes it the most, which is good since I made it for her birthday. It looks really good made from the Kureyon, and I will be definitely making two more so each of the cats can have their own. I followed the pattern exactly and it ended up being 17" in diameter with 2" high sides. I think this size will be good for all of my cats, except maybe for peanut but he will just have to spill over the edge I guess!