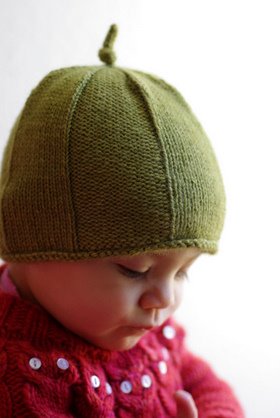 Project Specs
Pattern: Gooseberry Hat designed by Suvi Simola
Pattern Source: Available as a free download on Suvi's Ravelry Page
Yarn: The Fibre Company Road to China Light in Peridot 30g (95yds)
Needles: KnitPicks Nickel Plated Options Circular Needles size US4
Size knit: One Size, to fit average baby/toddler head
Date Started: 11/26/2010
Date Finished: 11/26/2010
See it on Ravelry!
I hope everyone had fun during the holidays and are getting the new year off to a good start! For Christmas I visited my family in Las Vegas, and since I only get to see them about twice a year, it's always a shock to see how big my nieces have gotten. Serena is the youngest member of the family, but even she is getting so big! Her first birthday is a month away and by looking at her now you definitely wouldn't know that she was born over month premature. She is just about the happiest baby I've ever met and didn't put up a fuss modeling her Christmas knits for the camera.

I've never had any luck giving hats to babies before. Usually they end up tearing them off almost instantly and throwing them across the room before you even get a glimpse, but the Gooseberry hat was just too cute to resist. Fortunately Serena didn't seem to have any qualms about keeping it on, and once Camdyn and Jojo felt how soft it was they both took turns trying it on. It actually fit them pretty well too! This will be a present that she can continue to wear for several years before she grows out of it, so that in itself makes the pattern a definite keeper.
This hat is very simple and would be perfect for a beginner who wants to get some practice with the basic stitches or knitting in the round. It also knits up in a flash so it makes a great gift. The design is unisex so if knit in a neutral color, this hat would make a great addition to a baby shower present for parents who are keeping the sex of the baby a surprise, or just to knit one up to have on hand just in case you need a last minute baby gift. I know I picked what some might think is a typically "boyish" color, but I think it looks great on her, and honestly baby girls usually have enough pink in their wardrobe already! I thought this pattern would also be a great way to show off variegated yarns that might otherwise distract from a more complex design.

The yarn I used was Road to China Light, and I have to say this is probably one of the softest (if not the absolute) softest yarn I've ever worked with. I am excited to start knitting with it again and am already on the hunt for the next perfect pattern to showcase this yarn! The girls could also appreciate the softness of this yarn, and if there is one thing about knitting for children, they will definitely let you know if something is uncomfortable or scratchy. This hat was a great use of a single skein, and I have enough left over to knit a tiny pair of matching mittens or booties. I'm still looking for a great pattern to knit for her birthday, so if you have any suggestions for a great gift for a little girls first birthday please let me know! I've been overwhelmed by all of the adorable baby items out there and am having the hardest time picking something out.
Along with the Gooseberry Hat, Serena is wearing the Owlet sweater which ended up fitting her perfectly (however that means she'll probably only get to wear it for a month or so before she grows out of it) and the February Baby Sweater knit by Alice. We'll have more pictures of Serena in these knits as well as a few others in the next few weeks!