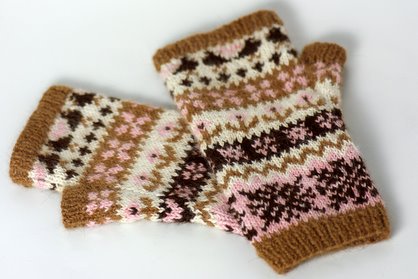 Project Specs
Pattern: Wintry Mix Mitts designed by Grace
Pattern Source: Grace's Pattern Store
Yarn: Blue Sky Sport Weight in #503 , #501, and #500, Blue Sky Melange in #810
Needles: US1 Knit Picks Nickel Plated DPNs, US2 Clover Bamboo DPNs
Size knit: M/L
Date Started: 12/27/2009
Date Finished: 10/11/2010
Modifications: Knit with 4 colors instead of 3
See them on Ravelry!
I am terrible at finishing things in a timely manner! I started these last year and quickly knit up the first mitt. Then I misplaced it and the yarn for the second mitt during an impromptu craft room reorganization project. I recently rediscovered the project, and I'm glad I can finally call these finished--just in time for Winter!

I decided to use four colors rather than three as called for in the pattern. It was definitely fun deciding where to use each. I did kind of get myself in trouble when I opted to use pink for the hearts near the top of the mitten, and needed to strand four colors at one point. It was a tad complicated to keep all my strands straight while twisting the long floats, but I think it was worth the extra effort for my cute pink hearts.
This color combo is quite different than my first pair. The more muted colors give these a totally different look. I love how different color and yarn choices can make knitting a pattern feel totally new again.

I really loved knitting with this yarn. It is SO soft and my new mitts feel dreamy on. It's only my second time knitting with this yarn but I can tell it's going to become one of my favorites. Since I tend to be a 100% wool knitter, using the alpaca was a nice change. The silky softness was really pleasant to work with. I did miss the springiness of wool, so I can't say I'm totally converted but it was fun to switch it up a bit. I did have a slight problem with splitting when I was knitting the ribbing with the sharper Knit Picks DPNs, but with bamboo needles everything went smoothly. I've got a few more colors of Blue Sky Sport stashed and I can't wait to find the perfect projects for them.