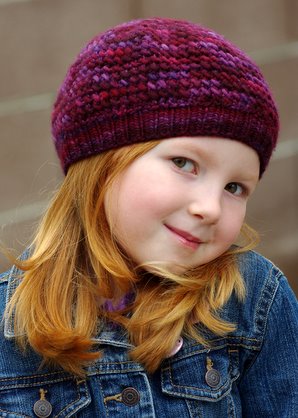 Project Specs
Pattern: Yulie designed by Grumperina
Pattern Source: A free pattern from Grumperina's Ravelry Store
Yarn: 54 g (117 yds) Malabrigo Merino Worsted in Velvet Grapes
Needles: US5 and US7 16" Addi Turbo Circulars, set of size US7 DPNs
Size knit: Medium, knit slightly shorter
Date Started: 10/13/2010
Date Finished: 10/14/2010
See it on Ravelry!
I am constantly looking for patterns that are a good fit for variegated yarns. I have always been drawn to the beautiful colors and love how they look in the skein, however I am more often ripping what I knit rather than finishing something when it comes to variegated yarns!

When I saw Grumperina's newest hat pattern, I knew it would be perfect for one of the colorful skeins of yarn that I've had stashed way too long. I love how the stitch pattern breaks up the pooling while still highlighting all the beautiful shades of purple and red in the Velvet Grapes colorway. Another plus about this pattern is it's reversible! I like the look of both sides, but Grumperina was definitely right when she said the "wrong" side really shows off variegated yarn beautifully.

The versatility in this pattern is great. It's written for a variety of sizes and you can achieve a fitted or slouchy look depending on how long you knit before decreasing. For Camdyn's hat, I cast on for size medium but knit to the length instructions for size small. I can definitely see knitting more Yulie hats in the future because the style is simple enough that anyone can wear it, but knit up in a really special yarn it would make a stand-out gift. This is the third hat I've knit using one of Grumperina's patterns and they certainly do not disappoint. Plus, this one is a freebie (and a super quickie!) so it would be a great addition to anyone's holiday to-knit list.