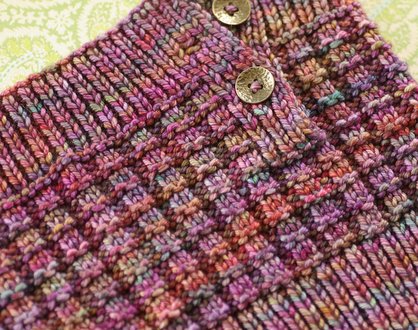 Project Specs
Pattern: Thermis designed by Kristen Patay
Pattern Source: Kris Knits
Yarn: Malabrigo Rios in Arco Iris 99g (207yds)
Needles: KnitPicks Nickel Plated Options Circular Needles size US6
Size knit: Large, 8.5" long
Date Started: 9/23/2010
Date Finished: 9/30/2010
See it on Ravelry!
Recently I've been feeling the fall itch. I'm ready for the days to cool, the leaves to turn, and to finally pull some of my old knits out of the closet. Even though it doesn't feel like fall yet, I've decided I'm going to start preparing and the first step was to knit myself a new cowl.
This pattern is really nicely designed. There are lots of photos of it worn, as well as flat, and the instructions are clear and simple. The are two sizes provided in the pattern, and I opted to knit the large size, although I probably should have gone with the small. I easily knit this over the course of two nights so this might be a good pattern to knit during October Stockpile. The pattern is really easy to memorize, and once I got past the ribbing my pace really picked up. This would make a good gift for both a man as well as a women. With the right yarn and buttons, this definitely could become a masculine cowl.

This was my first time using Malabrigo's newest yarn, Rios, which is a superwash worsted weight wool. If you're concerned that this yarn won't be as soft as Worsted because it is plied, don't be. Rios is a dream to work with. I also really love their newest colorway Acro Iris. I'm usually hesitant to use variegated colorways, simply because I never know what to do with them, but I couldn't resist this one. I like how it is colorful but not overly bright, so I won't feel uncomfortable wearing it. It also seems like the way that it was dyed almost resists pooling. I'm really interested to see how this and the other new variegated colorways knit up in a larger garment.

Since we're talking about Malabrigo, I wanted to share some exciting news with all of you! Today is the grand opening of my online yarn shop, Mr. Yarn! This is something my husband and I dreamed up all the way back in 2007 and have been working on since. I can't tell you how exciting it is to finally be opened for business! Our stock is dedicated to Malabrigo yarns, and since you probably already know how nutty we are about Malabrigo here at KathrynIvy, it should come as no surprise. We currently carry a huge selection of Merino Worsted, Silky Meirno, Chunky, Twist, Sock, Lace, and Rios. So please come by, check it out, and let me know what you think!