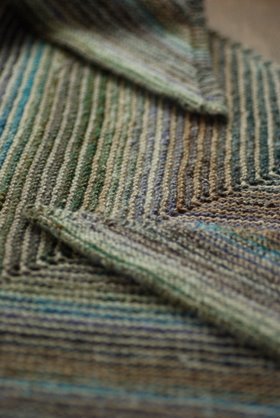 Project Specs
Pattern: Silk Kerchief by Kate Gagnon Osborn
Pattern Source: No longer available
Yarn: 96g (315 yds) Noro Silk Garden sock in #268 and 92g (302 yds) #269
Needles: US3 32" Knit Picks Nickle Plated Circular
Finished Size: 52" across top, 26" deep
Date Started: 8/16/10
Date Finished: 9/5/10
See it on Ravelry!
Yesterday signaled the unofficial end of Summer, and I'm ready to jump back into knitting full throttle. I couldn't seem to muster up the desire to pull out my knitting with the temperatures well into the triple digits each day the past few months. But with the weather finally cooling down, and Camdyn starting Kindergarten I've been able to find some time to think about knitting again.

This shawl has been my leisurely knitting project over the past month. I picked it up whenever a got a few minutes here and there and I happily finished it this weekend (it was becoming a bit tedious by the end). I had been planning to knit this pattern since it arrived on the scene but only got around to buying yarn and gathering the supplies for it at the start of the year when I was mapping out my shawls for the 10 Shawls in 2010 Knit-a-long. Luckily I got my stuff together just in time; This pattern is no longer available as a free download from Kate's site.

Silk Garden Sock was quite pleasant to work with. This was my first time using the yarn and I was expecting random color joins and quite a few knots like I've experienced in Silk Garden and Kureyon before, but I only found one knot in each of the balls I worked with. I was also pleased that my skeins were pretty consistent in thickness throughout with just a couple thicker slubs of silk mixed in. Overall I was really happy with the yarn choice, and of course Noro is so fun to knit with because of the color changes alone. It definitely helps keep a more simple project from becoming boring when you're looking forward to seeing what two colors will come together next.
I'll definitely be feverishly knitting shawls before the end of the year considering I've now just finished my 2nd of ten shawls for the KAL. Yikes!