All this week Alice and I will be featuring a few patterns from Anna's new book, Knitting Mochimochi. It's kind of like we're throwing our own little Mochimochi release party over here at Kathryn Ivy! Also in case you missed it last week, we're giving away two copies of Knitting Mochimochi and there are two ways to win! Either leave us a comment on last Friday's post or sign up to follow us on Twitter (you might have noticed the new Twitter button on the right sidebar). We'll be drawing the two winners this Friday.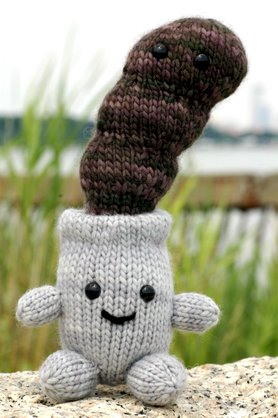 Project Specs
Pattern: Cuter Polluters designed by Anna Hrachovec
Pattern Source: Knitting Mochimochi
Yarn: Malabrigo Merino Worsted in Polar Morn, Black Forest, and <1 yd Black for mouth.
Needles: Clover DPNs size US 6
Date Started: 6/7/09
Date Finished: 6/8/09
Finished Size: 8.5" tall
Other Supplies: Four 9mm safety eyes
See it on Ravelry!
I knit this little fellow a way back when Anna was still testing out her patterns for this book. You could knit up this pattern in a day pretty easily. The finishing is minimal and mostly hidden. Being knit out of Malabrigo, he's extra soft and cuddly which I love, because who would have ever thought that a smoke stack could be cuddly? There aren't any difficult construction techniques needed to knit this guy, only kfb and k2tog, so this would be a good project for a beginner or a youngster who likes to knit.
Pulling this guy out after knitting him so long ago was a little bitter sweet.. The book suggests knitting this for "Grim Greenies" and that is very much how I have felt lately with the ongoing oil spill in the Gulf of Mexico. It is confusing to get a little depressed looking at something you've knit while at the same time smiling because it is so cute.