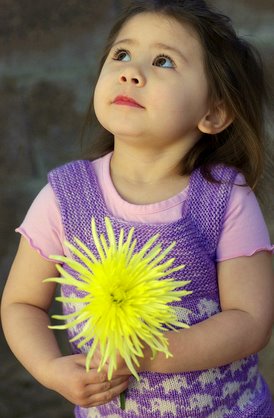 Project Specs
Pattern: Milo designed by Georgie Hallam
Pattern Source: Georgie's Ravelry store
Yarn: Malabrigo Silky Merino in Wisteria 62g (186 yds) and Natural 26g (78 yds)
Needles: KnitPicks Nickel Plated Options Circular Needles size US4 (for garter) and US6 (for colorwork)
Size knit: Child's, 3 years
Date Started: 4/15/2010
Date Finished: 4/22/2010
Modifications Knit the body of the vest in two colors using a free elephant color chart provided by www.jessica-tromp.nl (located half way down the first section of charts).
See it on Ravelry!

You might remember the first Elephant Milo I knit back in March. It was supposed to be for my niece Jojo's 3rd birthday but it grew too much during blocking and ended up fitting my older niece Camdyn perfectly. I really should have swatched before hand but it all worked out in the end and I was able to come up with the right fit the second time around. All I had to do was go down two needle sizes (to a US4) for the garter portions of the vest.

These colors are perfect for Jojo. She looked amazing in the Gretel Beret knit in Orchid Malabrigo Lace and I wanted to make her new vest to match. I am really pleased with how Natural contrasts with Wisteria and the elephants pop without being bright. This vest is pretty versatile and Jojo should be able to wear this vest throughout the year -- over short a short sleeved t shirt in the spring and summer and over a longer sleeve tee when the fall comes.
Now that I've made Milo vests for all three of my nieces, I'll be taking a break from this pattern. There are so many really cute children's patterns out there and the Milo vest is definitely one of my favorites, but I need to get out there and try the others that are in my queue! I'm excited to get ready for Christmas knitting for all of my nieces, who are easily my favorite people to knit for.