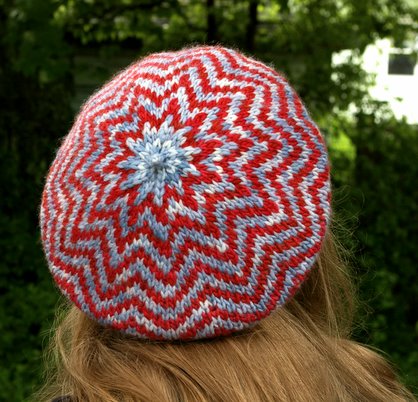 Project Specs
Pattern: Opus Spicatum, a free design by Kate Osborn
Pattern Source: Kelbourne Woolens
Yarn: Malabrigo Merino Worsted in Garnet 28g (59 yds) and Bijou Blue 29g (61 yds)
Needles: Denise Circular Needles size US6 and US9, bamboo DPNs size US9
Cast On: 8/14/2008
Finished: 8/14/2008
Finished Size: Women's Medium, 9.5" in diameter laid flat
See it on Ravelry!
I knit this hat ages ago so I don't remember every detail about knitting it! This was part of my Ravelympics line up all the way back in 2008 and I finally dug it out of my closet just the other day. Now I'm excited to have a new hat to add to my spring wardrobe!

Originally I was convinced that I'd have to give this hat away as a gift. The way I first blocked this hat made the fit a bit strange -- not tight enough to be a stocking cap and not loose enough to have any slouch. I think that's the main reason it got buried in my closet for so long. I decided to try blocking it again, this time over a dinner plate to make it more beret style, and I love how it turned out! I've never really been comfortable wearing slouchy hats, let alone berets, but I think I'll give this one a try.

This hat is great in Malabrigo and there even was a KAL for this pattern during the last Mal March. I really liked seeing all the color combinations everyone used. I opted to use some partial skeins I had laying around, pairing Garnet with Bijou Blue. I love the color combination! If you start with two full skeins (one in each color), you should definitely have enough yarn to knit this hat as well as a matching pair of Herringbone Mittens. These two patterns would make an amazing set requiring only a small amount of yarn and barely any time to finish (I was able to knit this hat in just a few hours).