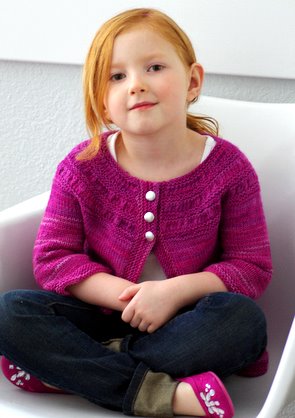 Project Specs
Pattern: Tiny Tea Leaves Cardi by Melissa LaBarre
Pattern Source: MadelineTosh.com
Yarn: 200 g (484 yds) Araucania Nature Wool, color 43
Size knit: Child's 6
Date Started: 4/25/010
Date Finished: 5/14/10
Modifications Added three buttons instead of two, only knit 6" (instead of 10') on sleeves before garter cuff
See it on Ravelry!
I've long admired the adult size Tea Leaves Cardigan so when a new version came out in children's sizes last month I bought it right away. There's no question this design is simple and cute, and I think it's just as suited for little ones as it is for adults!

When choosing a yarn for this project I decided to branch out a bit and use a yarn I've never used before. I tend to have a one track mind, always thinking, "Wow, this would look great in Malabrigo!," which undoubtedly this sweater would, but instead I opted for Araucania's Nature Wool. I've had this yarn stashed for a long time. I purchased a few colors on sale but they've just been waiting for the right project. At first I wasn't really impressed by the yarn. Knitting with it felt a bit harsh on my hands, probably heightened by the fact I just came off knitting with Malabrigo Twist.
When I started my second skein, I noticed it felt a bit softer than the first. I also had gotten a feel of the yarn so things sped up a bit from there. I do love the semi-solid colors in Nature Wool. My skeins were significantly different though, with my first being much darker than the second. I really should have alternated them from the start of the sweater! One of the things I like about this yarn is its a bit lighter than worsted weight and when knit up at 5 st/inch it has a bit of openness. The finished sweater is nice and light weight and Camdyn will probably be able to wear it more often here in Las Vegas than some of her other sweaters.

In the pattern I did come across a couple of errors for the size I knit. When separating for the sleeves, the numbers don't add up right for size 6. You have two extra stitches that aren't accounted for. I ended up incorporating them into the back section, but not before I finished the row and had to rip back to fix the problem. Also the number to cast on for size 6 at the second underarm is omitted. It's a pretty easy fix just to cast on the same amount as the first underarm, but also a tad annoying to come across two errors in one section of the pattern. I quickly looked over the other sizes and the numbers seem to add up for them, so the problem seems to only be with the size I knit!
Cam seems to enjoy her new sweater, though the first thing she said was, "But it's not pink!" I've convinced her that it's pinkish-purple, which has appeased her for the moment, but I guess the next sweater I knit for her needs to be pink!