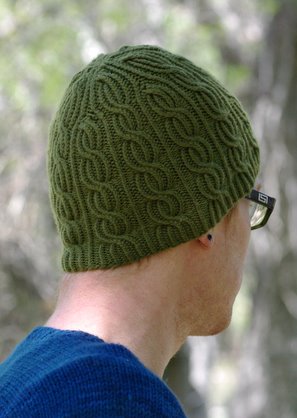 Project Specs
Pattern: Lina by Johanna of Joko Knits
Pattern Source: Avaliable as a free Ravelry download, and also on Johanna's Blog Yarn: 61g (149 yds) Knit Picks Merino Style in Moss
Needles: US6 16" Addi Turbo Circular, US6 Clover Bamboo DPNs
Date Started: 4/2/08
Date Finished: 2/16/10
See it on Ravelry!

For the Ravelympics earlier this year I took on the task of clearing out as many old WIPs as I could. Some were frogged, some took a few days to finish, but this hat was so close to completion it took less than an hour to get it off the needles. Quite sad, considering it was stalled out right before the decreases for almost two years!
This was definitely not the pattern's fault. It's actually simple and enjoyable because you only have to worry about the cabling every 11th row. For a knit that is pretty easy I think the final look is very cool.

I really like the look of the twisted ribbed cables. This pattern makes a great unisex sytle too--in fact this hat was going to be for me, but when it came off the needles Kenny took it and it became his go-to beanie for any cold day over the past couple months. I could definitely see knitting it again for myself or as a gift, especially because the hat is so stretchy it will fit basically anyone. Next time though, I'll make sure I push through to the end!