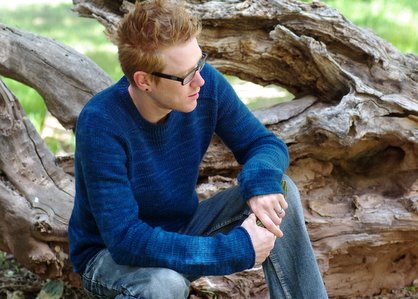 Project Specs
Pattern: Seamless Hybrid by Elizabeth Zimmermann
Pattern Source: Knitting Without Tears by Elizabeth Zimmermann
Yarn: 725g (1088 yds) Malabrigo Twist in Azul Profundo
Needles: US8 Knit Picks Options 40" circular, and US8 Clover Bamboo DPNs
Finished Size: 41" chest, 20" body length and 22" sleeve length before joining
Date Started: 4/1/10
Date Finished: 4/12/10
See it on Ravelry!

I have been wanting to knit my husband a sweater for a long time; I think it's been one of my knitting New Year's resolutions for the past few years. This month I finally committed to a Seamless Hybrid KAL with Jen, and I'm sure it's the only reason I finally got around to knitting this (stay tuned to Jen's blog, because I'm her her finished hybrid will be popping up soon, complete with steeking!). I am really happy that I have finally reached my goal of knitting an adult sized sweater. I can't say I'm itching to cast on for another full-sized sweater right away--I'm still partial to the quicker knits--but I'm definitely proud of myself for actually completing a large scale knit!

I think Knitting Without Tears is probably my favorite Elizabeth Zimmermann book yet. If you don't own one of her books and can only get one, this should be it. The first chapter is invaluable and a great read with loads of information. The patterns are so classic I can see knitting them over and over again. All in all, this book is definitely an essential.
I've learned to read completely through EZs patterns before casting on. Because the patterns are written in a conversational tone, I take the extra time to write down the steps and important numbers on another piece of paper. In this case I did as much math as I could before hand which I found really helped me grasp how the pattern was going to come together.

Before I started I had Kenny choose a sweater he already owned and liked how it fit and I grabbed most my measurements from there--minus the sleeve length since he's actually never been able to find a sweater with sleeves long enough for him. For the sleeves I made a few changes to EZ's recipe. I cast on 25% of my key number rather than 20% so the cuffs wouldn't be as close fitting. I also knit 10 plain rounds in between sleeve increases. Originally I had planned to add contrast color facings after finishing (by picking up stitches from the CO edge, a technique EZ mentions in the book) but after trying it at the sleeve cuffs I think the Twist ended up just a bit too bulky for the size of the sleeve openings. Next time if I want to do a lined cuff, I'll definitely cast on a few more stitches for the sleeves. I still may add a facing to the body of the sweater. As is, it rolls up a bit and some of the length is lost. Kenny still likes it so I haven't decided what I'll do yet, but it's good to know that that's always an option.

This was my first time knitting with Twist--and surely not my last. I love that I now can knit with a plied yarn that is just as soft as Malabrigo Worsted and in the same beautiful hand dyed colors. It's a bit heavier than regular worsted--on size 8s I got a gauge of 17st/4" after blocking. I swatched with both 8s and 9s, and decided to go with the tighter fabric to hopefully reduce pilling. Overall my batch of skeins was relatively consistent in their coloring, though two of the skeins I used did have knots in one of the plies which seemed to throw off the color patterning a bit. This is a comfy casual sweater so I decided to just go with the flow and let the yarn do its thing.
I was sure Kenny wouldn't get a chance to really wear this sweater until next Fall, but we were lucky enough to get a nice cool spring day here that definitely warranted a sweater. Kenny said it was really comfortable and kept him nice and warm. I'd say it's a winner!