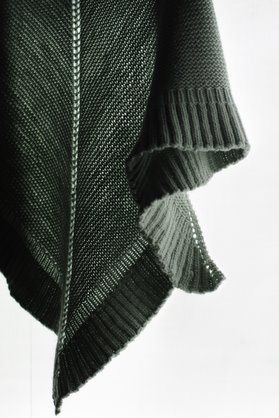 Project Specs
Pattern: Mara by Madelinetosh
Pattern Source: A free pattern from madelinetosh.com
Yarn: Malabrigo Merino Worsted, 340g (735 yds) Pigeon
Needles: US7
Finished Size: 53" across top and 30" deep, after blocking
Date Started: 3/20/10
Date Finished: 3/28/10
See it on Ravelry!
I'm sad to see this month come to an end! It's not to say I won't be knitting with Malabrigo next month too, but I need to try to make a dent in the rest of my stash as well! I actually have a couple more FOs from MalMarch to show you (and I know Grace does too!) so don't worry, we'll keep the Malabrigo goodness coming for a bit longer.

Mara has been on my to-knit list ever since the pattern was released, and every time I saw a beautiful version knit up I wanted to knit it more and more. It seemed like the perfect project to round out this month with. Not only does this shawl fit with the Malabrigo March theme, it's also my first completed shawl for the 10 shawls in 2010 Knit-a-long!
The simplicity of the garter stitch body and pleated ruffle edging really appeal to me. I haven't knit very many shawls so the uncomplicated construction is perfect for a newbie like me. It's definitely more my style than an intricate lacy shawl (they're beautiful, but I have no idea where I'd wear one!), and because its solid and cushy it even doubles as a lap blanket while I'm curled up knitting in my favorite chair.

I know I've said it before, but grey is my favorite color. It was serendipitous that the only colorway of Malabrigo I had enough yardage of in my stash was this one! When I began, even as much as I loved the color, I thought the solid might end up looking boring in the simple pattern. I decided to press on, and I love it. It really keeps the shawl versatile and I think I'll get lots of use out of it because it's classic look.
I'm very happy with how my shawl turned out, though I did learn some things for the next time I knit this pattern. The ruffled edging took way more yardage than I expected. I started it with well over a full skein of yarn left and I still was able to only eke out 2 1/2" of the 2x2 ribbing. Next time I'll allot half my total yardage to the garter stitch portion, and half to the rest of the pattern. The only minor change I made to the pattern was using a different bind off than noted in the pattern. I chose to loosely bind off in ribbing and I found it to be more than sufficiently stretchy. Also, there's a slight discrepancy in the pattern on the increase row. The proper instructions are noted on the Mara pattern page on Ravelry.