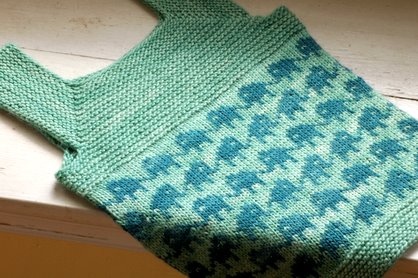 Project Specs
Pattern: Milo designed by Georgie Hallam
Pattern Source: Georgie's Ravelry store
Yarn: Malabrigo Silky Merino in Spring Water 68g (204 yds) and Teal Feather 26g (78 yds)
Size knit: Child's, 3 years
Date Started: 3/3/10
Date Finished: 3/15/10
Modifications Knit the body of the vest in two colors using a free elephant color chart provided by www.jessica-tromp.nl
See it on Ravelry!

Knitting a larger sized Milo has been on my mind since I first knit the pattern for my tiny newborn niece Serena. The vest was so fun to knit and I knew the style would look just as cute on my older nieces. Originally I planned on knitting this vest for Serena's sister Jojo, but after blocking it ended up fitting Camdyn perfectly! I already have plans on knitting a slightly smaller one for Jojo in the coming month so all three of the girls will be able to wear their matching vests.

This pattern has to be one of my best purchases of late. It's absurdly addictive and not just the finished product is so cute. The construction is so simple. There is no seaming or finishing work except for weaving in an end or two. It is also extremely customizable. I had my heart set on knitting the body of the vest in a whimsical stranded pattern and got started knitting once Alice showed me this adorable elephant chart. Adapting the pattern for colorwork was so simple. Just find a chart with a stitch count that divides evenly into the total number of stitches for the vest's body. Just about any pattern will work too so the sky is the limit!

I really enjoyed working with Silky for this vest. I don't get to work with Silky nearly as much as I want to so it is always a real treat. I am really happy with how it worked for stranded knitting and will definitely use it in the future. This is the first time I have really used Silky for a garment where the fit really mattered and I didn't take into account how much it would grow with blocking. The stranded portion of the vest didn't grow too much, but the garter stitch chest and hem grew more than I was prepared for. Fortunately it ended up fitting Camdyn like a charm and I now know to go down a needle size or two for those parts of the vest in the future!