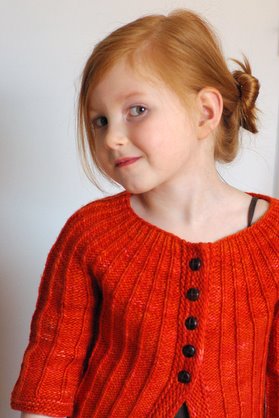 Project Specs
Pattern: Yoked Cardigan by Hannah Fettig
Pattern Source: Hannah's Ravelry Shop
Yarn: 252 g (544 yds) Malabrigo Merino Worsted in Glazed Carrot
Needles: US7 Knit Picks Nickle Plated Interchangeable Needles, US7 Clover Bamboo DPNs
Size knit: Child's 2/4, with modifications
Date Started: 3/12/010
Date Finished: 3/16/10 (buttons added on 3/21/10)
Modifications Cast on five stitches at each underarm after splitting for sleeves, lengthened body and sleeves, added garter cuffs at sleeves, added five buttons rather than two
Extras: Five dark brown leather buttons
See it on Ravelry!
Camdyn is really fun to knit for. She always lets me try things on her along the way and is such a good sport. Plus she's genuinely excited about wearing the things I knit her, which is the best part of all. I'm so lucky to have her!

I think this could be my favorite thing I've knit so far this month. At first I wasn't so sure about the color because my skeins of Glazed Carrot were so different than others I've seen (like Grace's hat that has much more pink in it), but I absolutely love the richness this shade has. I probably would probably never be able to wear a sweater in this color myself, but that's a great thing about knitting for kids, you can be a little more adventurous!

While knitting this pattern I made quite a few changes along the way. I actually cast on for the Child's 2-4 size because it was closest to her chest size, and then whenever a length was given between increase rows I knit to half way between the numbers for Child's 2-4 and 6-8 sizes. Although the pattern doesn't call for it, I cast on 5 stitches at each underarm after splitting the sleeves. It added the little bit of extra width I needed in the sleeves and body.

I also increased the length of the body and sleeves and added garter stitch cuffs to the sleeves to better tie in the garter stitch button band (which I also knit wider than called for in the pattern). After blocking, the sleeves are 6 1/2" from underarm to cuff and the body is 13" from underarm. When it came to buttons, I spaced five button holes five stitches apart at the top of the band and added rich brown leather buttons to finish it off.