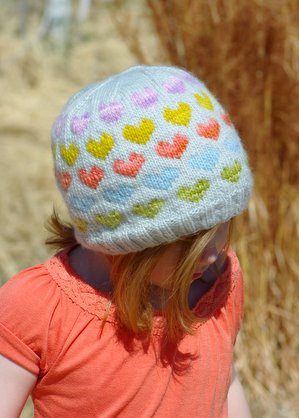 Project Specs
Pattern: From Norway with Love Hat by Anna and Heidi Pickles
Pattern Source: Pickles Blog
Yarn: Malabrigo Merino Worsted; 59g (127 yds) Pigeon, and 5g (11 yds) each in Lettuce, Tuscan Sky, Glazed Carrot, Frank Ochre, and Orchid
Needles: US6 and US7 16" Addi Turbo Circulars, US7 Clover Bamboo DPNs
Date Started: 3/9/010
Date Finished: 3/12/10
Modifications: Increased to 120 sts after ribbing, went up a needle size for body of hat, and modified the decreases
See it on Ravelry!
I've barely stopped knitting long enough to take pictures of my finished Malabrigo March knits, but luckily yesterday we took a nice trip to the Las Vegas Springs Preserve where I got Camdyn to model my newest finished hat. This one is actually for me, but of course she looks adorable in it. I think I may have to make a slightly smaller version for her someday.

I had a really fun time choosing colors for this hat. I basically got out all my smaller partially used balls of Malabrigo and just picked from there. At first I wasn't so sure they went together, but now I've come to love them. It was a great use for my smaller bits too because each row of hearts only took about five grams of yarn. Of course I love using Malabrigo for stranded colorwork because it just makes the FO even more dreamy to wear. This hat is so squishy when worn that even though our cold season is over here I don't want to take it off!

After looking at some hats made from this pattern on Ravelry, I noticed that there was a problem with them ending up too small. I decided to upsize mine by making a few changes to the pattern. I cast on as called for in size US6 needles. After knitting the ribbing I went up to a size US7 needle and increased 20 stitches (k5, m1 around). This added in two heart repeats on the body of the hat. I knit five rows of hearts as called for in the pattern then when I got to the decreases I knit one round plain after my final heart, then worked *k13, k2tog* around. After that I knit one less stitch before the k2tog until I had 8 stitches left..
I'm making headway on my to-knit list for this month, though I keep finding more things I want to knit for Malabrigo March every day it seems! I've still got plans to make some more mittens, hats, a little sweater for Camdyn, and even a shawl. Wish me luck, I think I may need it!