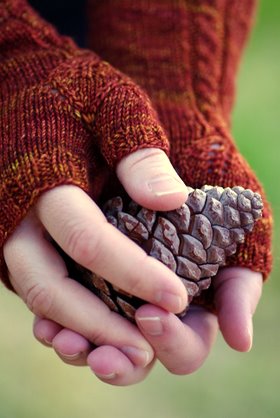 Project Specs
Pattern: October Leaves Fingerless Mitts by Abbie Tilden
Pattern Source: Abbie's Ravelry Shop
Yarn: 39g (172 yds) Malabrigo Sock in a testcolor
Needles: US2 Clover Bamboo DPNs
Date Started: 3/3/010
Date Finished: 3/4/10
See them on Ravelry!
I've yet to put down my needles so far this month, and I'm so excited to show you another FO. I've finished these mitts just in time too, since it actually snowed yesterday here in Las Vegas if you can believe it!

Even though the gauge is on the small side, the pattern is quite simple and knits up surprisingly fast. I loved how the increases on the thumb gusset were incorporated into the leaf motif. In between cable rows there isn't anything slowing you down, and even the cables go very quickly. In fact, I think the ribbing at the top and bottom of the mitt was the slowest part for me.
This was my first time using Malabrigo Sock and I absolutely loved it. I won this test skein of yarn a couple years ago in a Malabrigo March contest. I've kind of been saving the yarn and not wanting to use it until

now. When i was knitting with it I did not want to put it down. It felt a bit lighter than other sock weight yarns I've worked with which took some getting used to, but it was so smooth and soft going through my fingers. It softened up even more after washing and my fingerless mitts are super cozy now. I'm excited to work with this yarn lots more in the future!