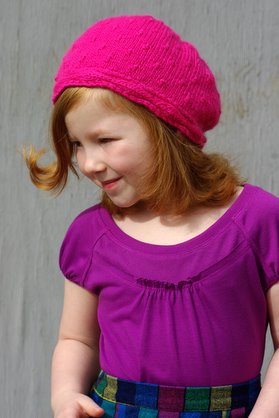 Project Specs
Pattern: Dindy Beret by Kate Oates
Pattern Source: Kate's Ravelry Shop
Yarn: 66g (139 yds) Malabrigo Merino Worsted in Strawberry Fields
Needles: US5 for brim, US7 for rest of hat
Size knit: Adult, to fit Camdyn's large (19.5") child size head
Date Started: 3/2/010
Date Finished: 3/3/10
See it on Ravelry!

Chances are you've browsed Ravelry and stumbled across one of Kate's adorable hat patterns. I'd certainly admired lots of them, so when Kate asked me if I'd like to knit a couple of her patterns I jumped at the chance. I was thrilled when her Dindy Beret pattern arrived in my mailbox and decided to knit it up as one of my first Malabrigo March projects.
Right from the start this pattern offers something new. The lace leaf band is knit first, and then you later pick up stitches for the rest of the hat. The band pattern is easily memorized, and though it takes quite a bit longer to knit than just a simple ribbed brim, the unique end result is worth it.

Camdyn has been asking for a bright pink hat, so I chose to work with some Malabrigo in the Strawberry Fields colorway. This is one of the true solid colors Malabrigo offers. Though there's not the unique variation and depth present in the semi-solid colorways, the yarn is just as soft and luscious to knit with. I like how the solid pink really shows off the leaf pattern as well.
There are two options in the pattern for the body of the hat. I chose to work the dot pattern which added some interest to the solid colorway. The first round of dots were a bit fiddly to knit, but as I went on they became like second nature. There's also an option in the pattern that has twisted lines leading up to the decreases. The hat is finished off with a bobble button on top, though I also think it would be adorable with a little i-cord nubbin for a different look.

Because Cam's head is pretty large for a little kid, I knit the adult size option in the pattern. The size options in the pattern range to fit an infant (15.25") to Adult (19.25"). I think if I made this hat for myself (22"!) I'd have to add in another leaf repeat to the band and probably a few extra stitches to the body, or go up a needle size, though either of these would be easy fixes.
Kate blogs at Tot Toppers, where it seems like she's coming up with something new every day. Quite a few of her patterns feature Malabrigo, so they'd be great to knit up this month during MalMarch. In fact, later this month I plan to knit her Sweet 'n Sour Apple Hat pattern with some scrumptious Malabrigo Worsted in the Lettuce colorway.