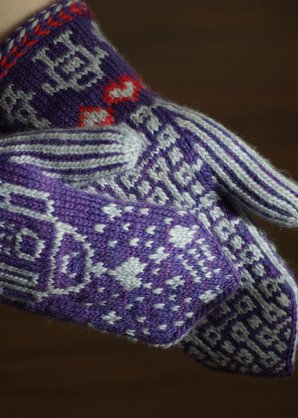 Project Specs
Pattern: Love Bytes (Robot Mittens) by Grace Schnebly
Pattern Source: Grace's Ravelry Shop
Yarn: Malabrigo Merino Worsted, 69g (145 yds) Violetas, 38g (80 yds) Polar Morn, and 6g (13 yds) Garnet
Needles: US3
Finished Size: 4" across, 10.5" long
Date Started: 3/1/010
Date Finished: 3/2/10
See them on Ravelry!
I'm so glad Malabrigo March is finally here! I've been looking forward to it for a long time. Most of last year I didn't knit anything and didn't participate in Malabrigo March so this time around I'm even more excited. I'm happy to say I'm off to a good start so far! Aside from these mittens, I've already got another project blocking and a couple others on the needles.

Though I already had one Robot Mitten completed in a different color combination, I decided to start on a totally new pair. Last time because I had taken such a long break from knitting, my tension and colorwork skills were definitely off. I couldn't get over how uneven my stitches were and the bit of rippling that was apparent from too-tight floats so I chose to start anew. I'm glad I did because I'm much happier with how this pair turned out, and the new color choices I made are really growing on me!

For the most part these mittens really flew off the needles, though I must admit when I was in the home stretch after putting the thumb stitches on hold on my second mitten, my mind started to wander to what I wanted to knit next and things started to slow down a bit. I'm glad I pressed on because I have a terrible tendency of stopping short of finishing my second mittens. I'm determined to break that bad habit this year, though!

You could probably call me biased, but I have to say Grace did a great job on this pattern! It's super easy to understand and because the charts on each mitten are different, it stays fun to knit the whole time. If you're like me you have a few partial skeins of Malabrigo around and these mittens would be a great use of those since you use less than half a skein for the two contrast colors and about two-thirds of a skein of the main color. I'm sure I'll knit this pattern again in the future for gifts, but for now I'm just going to sit back and enjoy my very own pair of Robot Mittens!