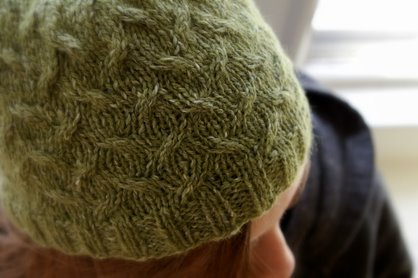 Project Specs
Pattern: Cap Karma Hat designed by SmarieK
Pattern Source: smariek knits
Yarn: Rowan Felted Tweed in Herb #146, 29g (111 yards)
Needles: Denise circular needle size US 6 and same size DPNs
Cast On: 10:02 PM 2/13/2010
Finished: 7:12 PM 2/14/2010
Finished Size: Woman's Medium/Large
Modifications: Knit at a smaller gauge, CO 112 sts, added one extra repeat, used Brooklyntweed's decreases.
See it on Ravelry!
When I was searching for projects to knit for the Ravelympics, I decided to look through some of the projects I had in my favorites on Ravely from years ago. Some projects I had already knit, some I knew I'd never knit, and others were just kind of in limbo. I wanted to knit them and had the yarn already stashed, but just never got around to casting on. This hat was one of those projects and I'm proud to say that I can finally put it in the FO column!

This hat is so, so simple and once you get past the ribbing, there isn't a single purl stitch. The pattern originally calls for worsted weight yarn, but I fell in love with AShrillCaramel's version on Ravelry and followed her mods for a DK weight version. I like how it turned out but I wish I would have gone down to size US4 or US5 needles for the ribbing. After washing it stretched out a little bit but still fits nicely. Usually the hats that I knit have a more snug fit; this one is looser with just a bit of slouch. It will be a nice lightweight hat to wear through to the start of spring and would look great with a pair of Very Cabley Mittens.

I liked working with Felted Tweed and thought it was really nice to cable with. I've read that some people had problems with the yarn breaking and finding lots of vegetable matter but I experienced neither. It might not be the softest yarn out there but I haven't found it to be itchy yet. I don't have many tweed knits in my closet so this will be something new to add to the rotation, and I think I have just enough of a skein left to make a pair of small mitts to match.