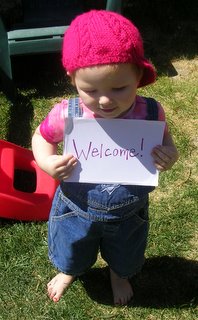 Welcome to KathrynIvy.com! We can't wait to start sharing our latest endeavors with you on our new blog! We promise to update often with lots of new info on our latest projects, and of course lots of yarn eye candy! There are two of us so it will be twice as much fun!
You can find out more about us and our goals for our site on the About Us page. Plus, we've already got some great stuff for you to check out in our Patterns and Extras section—lots of free and fun goodies! If you're looking for info on yarn and other knitting accessories, we've got our Reviews section. We've already added lots of information, and will be updating it weekly.
Stop by our Flickr photostream and our Etsy Shop. Also feel free to add us as a contact! We enjoy seeing what others are up to, and are always looking to be inspired from fellow knitters and crafters. Please don't hesitate to bookmark us and come back often. If you like what you see, we'd love it if you would link to our blog from your site, and just leave a message in the comments and we'll gladly link to you as well!
We also have some big ideas in the wings, so stayed tuned!