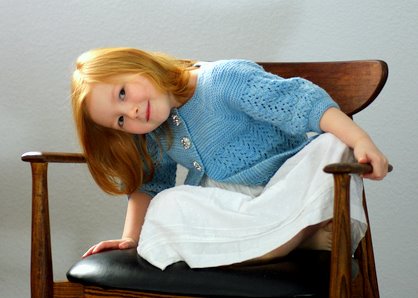 Project Specs
Pattern: February Lady Sweater designed by Pamela Wynne
Pattern Source: Flint Knits
Yarn: 257g (540 yards) Malabrigo Merino Worsted in Tuscan Sky
Needles: US 7 Knit Picks Options Circular
Date Started: 8/18/08
Date Finished:2/15/10
Modifications:Knit at a smaller gauge, worked round of k2togs before knitting garter cuffs
See it on Ravelry!

Wow, it feels good to have this sweater finished! I really can't believe I started this during the last Olympics. I chose to pick it up again as one of my projects for the 2010 Ravelympics in the WIP category. After knitting on it all weekend, I was able to sew on the buttons this morning and finally call this sweater finished.
I originally abandoned this project right after the first few lace repeats on the body, I imagine because I realized this sweater would have been WAY to big on Camdyn back then! Even now its a bit roomy on her and I think she'll get to wear it quite a bit longer.

My plan to make this sweater Camdyn sized was to cast on according to the pattern's smallest size but in a tighter gauge. It didn't work out totally flawlessly, and looking back at my notes I'm not surprised, since I didn't make any real calculations. I increased to 260 total stitches. After splitting the sleeves from the body I had 56 stitches on each sleeve and 148 body stitches. If I knit this again, I would definitely allocate less stitches for the sleeves. After I picked up the seven stitches at the underarm of the sleeve (63 total stitches) I ended up with quite a bit of extra fabric, which is especially noticeable where it bunches at the underarms. Because the sleeve openings were really large as a result of this, I worked a row of "k2tog"s after my final lace repeat on the sleeves to draw them in a bit before working the garter cuff. I think it makes for a cute puffy sleeve look and helped fix the huge sleeves that it had before, and hopefully detracts from any problems at the armpits!
If I knit this pattern again, I'll definitely try to work out my numbers better. I love the garter yoke and the swingy cardigan style, but I found that I knit the lace pattern incredibly slowly. It would be fun to incorporate a different lace stitch on the body--especially if there's less purling involved. Feather and fan maybe?

I love using Malabrigo for kid's sweaters because it's so soft. I never have to worry about Camdyn not wearing something I knit her because it's too itchy. She wanted to try on the sweater as I knit almost too much! It's been awhile since I've knit her a garment, and she was so glad to be able to finally wear her new sweater! I used the buttons Camdyn originally picked out way back in 2008. I think she did pretty darn good considering she was only three years old at the time!