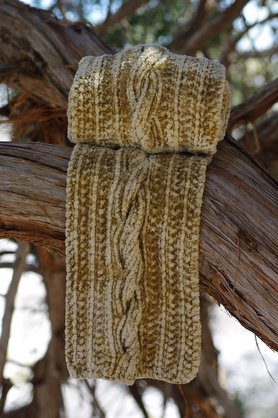 Project Specs
Pattern: Vintage Velvet by Lisa Daniels
Pattern Source: Scarf Style by Pam Allen, reprinted in Interweave Knits, Accessories, 2009
Yarn: 5 skeins Muench Touch me, Color #3650
Needles: Denise Circular Needles size US8
Date Started: 1/1/2010
Date Finished: 1/15/2010
Finished Size: 65" long, 5" wide
See it on Ravelry!

This is the second time I've knit this pattern (Grace has knit it too!) and I enjoyed it just as much this time as the first! From the minute you start knitting with this yarn, you know that your FO is going to be totally luxurious. Some people might be turned off by the chenille texture, but it's nothing like other novelty chenille yarns. The sheen is so unique and it's very silky soft. Because of the wool content, there's still some give while knitting so it's not hard on your hands. The real fun is when you see how this yarn changes after felting. The transformation is amazing!

I decided to knit this pattern again when I was looking for the perfect gift for my mom for Christmas. Luckily, I was able to find a pretty good deal on the yarn on eBay. It seems like Touch Me is pretty hard to find on sale, but I know you can find it for a good price from someone destashing on Ravelry as well as on eBay. The only problem is, I had to buy a whole bag of the yarn so now I have 5 extra balls hanging around. I'm not quite sure what I'll make from it or when I'll use it, but it's sure to be something really special.
Right now both Grace and I are gearing up for the 2010 Ravelympics (which is basically the Olympics for knitters!). I've decided to challenge myself to finish up a whole slew of old unfinished projects and Grace is planning a bunch of knits as well. The games start tonight so we'll be sharing some of our Olympic knitting with you next week!