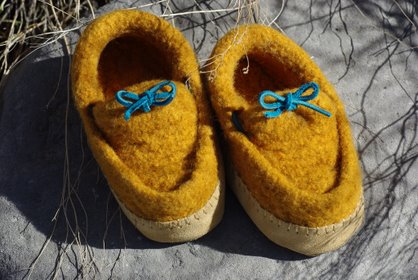 Project Specs
Pattern: Felted Moccasins
Pattern Source: Felted Knits by Beverly Galeskas
Yarn: Patons Classic Wool in Old Gold 108g (240 yards)
Needles: Denise Circular Needles size US13
Date Started: 12/30/2009
Date Finished: 1/16/2010
Finished Size: Childrens Small (to fit childs shoe size of about 10), 7" long
Extras: 1 yard blue suede for laces, 7" Fiber Trends suede slipper soles, DMC embroidery thread in color 422
See them on Ravelry!

I've received several requests for these moccasins after knitting a pair for my dad for Christmas two years ago. They were a huge hit and he brings them with him every time he comes to visit. Now my niece Jojo has her own tiny pair and they couldn't look any cuter on her! She wore them around all night when she first got them and calls them her "slipperies". The suede soles give them extra traction so her parents won't have to worry about her slipping and sliding around plus they'll keep her feet extra warm until spring comes. They fit her perfectly right now but should grow with her a bit and will hopefully last to next year too.

A pair of moccasins this size can easily be knit in an afternoon. The construction is simple and the finishing doesn't take long at all either (you also don't have to worry about being too neat since felting them will hide just about everything!). Although these knit up really quickly, don't consider this pattern for a quick gift. The time it takes to felt in the washer isn't long, but because this pattern creates a fairly dense fabric, you'll need at least 3 days for them to fully dry.
The only real annoyance I had when knitting this pattern was that I ran out of yarn with one more row to knit on the outer sole of the second slipper. Moccasins this size take about 10 to 15 more yards of yarn than is convenient, forcing you to use just a tiny bit of a second skein of Patons or Cascade 220. Fortunately Alice had an extra skein of the color I needed laying around her house. She is a real life saver!! If you're knitting from your stash like I was, and don't have two skeins of the same color, maybe try knitting the inner sole in a contrasting color. It won't be visible from the outside of the slipper and might make these a little more useful for stash busting.

This was my first time using slipper soles and I was surprised at how easy they were to attach. Your slipper doesn't have to be the exact size of the suede sole, in fact I think that it is better if the slipper sole is a little bigger than the actual slipper since they will stretch out a with wear. To sew on the soles, I first pinned them in place and used embroidery thread in a matching color to whip stitch them on. I kept all 6 strands of the embroidery thread together to make it extra sturdy and they should be able to hold up to all of the wear and tear Jojo puts them through!