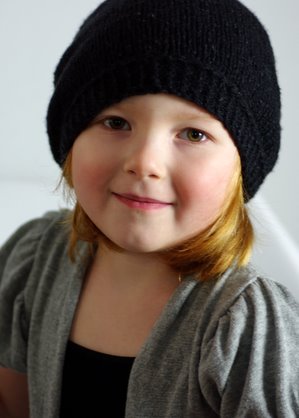 Project Specs
Pattern: Ripley designed by Ysolda Teague
Pattern Source: Ysolda's Ravelry Shop available for purchase singularly or as part of the Whimsical Little Knits 2 e-book
Yarn: 58g (125 yards) Tahki Sedona in Black (008)
Needles: US 10 Clover Bamboo DPNs
Date Started: 12/22/09
Date Finished: 12/26/09
Size knit: Slouchy, garter band version in size Large... but it didn't turn out that way!
Modifications: My gauge was off (16st/4" rather than 12st/4") and ended up with a tiny hat
See it on Ravelry!
Okay, so I really need to add another New Year's Resolution--start checking gauge! You see, this hat was supposed to be a last minute gift for my husband for Christmas but instead it ended up almost perfectly Camdyn sized! Kenny had been wanting a slouchy style beanie, and I bought this yarn with a hat for him in mind. I cast on thinking I'd have an easy gift but instead it was a bit of disaster!

I admit I should have stopped when I noticed how small the hat was looking--I could basically tell after knitting the band that it wasn't right--but I'm going to blame my mistake on holiday craziness and total denial in thinking my gauge wasn't that off. During blocking I tried my hardest to stretch out the brim but didn't have any luck. When it was dry, poor Kenny even tried to put it on his head to appease me, but of course it was a lost cause.
Other than the sizing issues resulting from my own ignorance to gauge, the pattern was an easy knit. First the band is knit and stitches are picked up to knit the rest of the hat. There are two band options--lacy and garter stitch--which makes this a great unisex pattern. The pattern also has instructions for both slouchy and less slouchy hats so even if you've knit the pattern once, there's always another combo you can try!

One of the good things about having a little one in the house is they look cute in pretty much everything, so this hat isn't a total failure since it at least fits someone around here! I am thinking of adding something to girl it up though since when she put it on, Kenny said she looked like she was off to rob a bank!
The yarn, Tahki Sedona, which I picked up on closeout at WEBS was a pleasant surprise. It is very soft and was a real pleasure to knit with. The silk content creates a but of nubby tweedy texture which adds interest to the basic black. I picked up a couple skeins in other colors too so I'm looking forward to finding the right pattern for those as well.