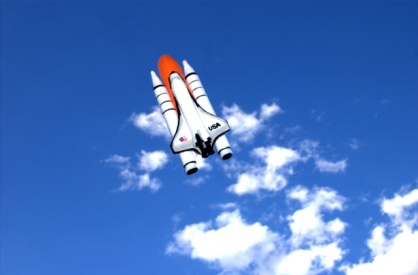 I have been working on this pretty much nonstop for the past two days. I put off all knitting, including my Vintage Velvet, to get this baby done! Well here she is. This is my felt model of the space shuttle, to scale of course. Everything is made of cheapo craft felt and held together with plain ol' Elmer's white glue. I totally reverted back to elementary school while making this… except for the whole detail and accuracy part. This is my entry for Craftster's Challenge #18: Felt Inanimate Objects. The voting will begin on May 6th so please vote for me!!! I am not below begging for votes… Trust me I will remind you when the time comes to vote just incase you're afraid you might miss it.

There are three parts to this model. First is the big orange thing which is the external fuel tank. On either side of the fuel tank is the rocket boosters. Each rocket booster has a propulsion system at its base. All of the detail on the fuel tank and rocket boosters is inlaid so nothing sticks out where it shouldn't. Their structure is felt rolled up to create cylindrical tubes, to which all the detail was added. Each rocket is approximately 1" wide and the fuel tank is a little over 1.5" wide. When connected they stand 9" tall.

The third part is the orbiter. This was probably the most time consuming piece to make. It is 6.5" long, 3" tall (including the tail rudder), and has a wing span of almost 4". Again its made totally of felt. There are three engine nozzles on the back, as well as two smaller maneuvering nozzles near the rudder. The detailing on the rudder is also inlaid so it wouldn't be all bumpy. I added a little American flag detail to one wing and USA to the other. I didn't want to use embroidery (I though it might detract from the whole felt thing) so the letters and flag are made from thin strips of felt.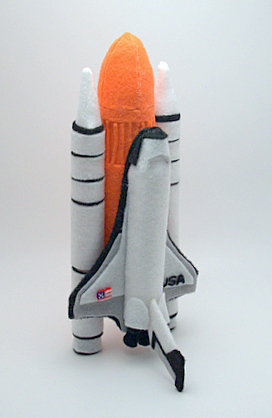 I ended up using a sheet of orange, maybe 2 of white, one of black, and some gray. I only used tiny parts of red and blue for the flag. There is maybe a half a bottle of Elmer's glue in it though! Anyways I hope you like it! Sorry that it isn't knitting related; I just wanted to show it off. Oh and please vote for me!!!