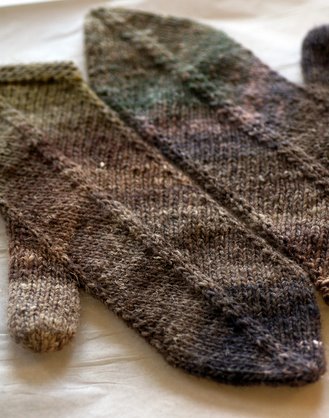 Project Specs
Pattern: Mitered Mittens
Pattern Source: Knitter's Almanac by Elizabeth Zimmermann
Yarn: Noro Silk Garden #88, 66g (145 yards)
Needles: US 6 DPNs
Date Started: 12/15/08
Date Finished: 12/18/08
Finished Dimensions: 11" inches long
Modifications: Added thumb gusset

I've had it in my mind for about a year now that this pattern would be perfect for my grammie. It's subtle and beautiful while not being at all ornate, and I thought it would be a great compliment to the Chickadee Cowl I had already knit her. With a matching Silk Garden colorway, I thought they'd make a lovely set.
I knit these pretty much the same way I made my first pair of Mitered Mittens, with a 5 row garter stitch edging and added thumb gusset. I made the cuffs a little shorter this time by about two inches. I wanted to make sure that the thumbs kept in line with the color pattern, so after working the thumb gusset I knit two rounds in the miter pattern, broke off the yarn, then went back and worked the thumb before finishing the rest of the mitten. I think this also helped me complete them in a timely manner, since it always seems I put off knitting the thumbs on my mittens. :)

It took me a little while to find the right colorway to match the Bronze Handmaiden. The muted colors are really pretty and I like the variety of browns, pinks and greens just like in the Handmaiden. I visited several yarn shops in Boston until I found this at Snow Goose Yarns in Milton. This shop is quickly becoming my favorite LYS and not just because it is pretty close to my house. They have a huge selection of yarns with a different brand on sale every month, plus their clearance section is the best I've seen (other than Webs). If you live near Boston, it's worth checking out. However you will need a car to get there.