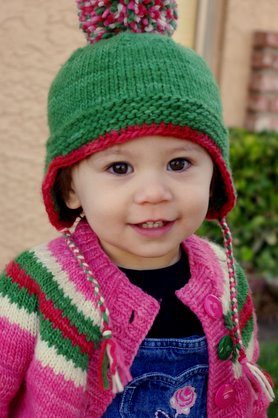 Project Specs
Pattern: Drive Thru by Wendy Bernard of Knit and Tonic
Size Knit: 2 years
Yarn: Malabrigo Merino Worsted in 153g Cactus Flower (330 yds), 15g Verde Adriana (32 yds) 5g Garnet (11 yds), and 13g Natural (28 yds)
Needles: US7 and 8 Clover Bamboo DPNS, US7 and 8 Denise Interchangeable Needles
Date started: 12/17/08
Date completed: 12/21/08
Modifications: Instead of a stranded transition row between colors, I slipped every other stitch. Did not bind off stitches at underarms and grafted them to sleeve stitches later.
See it on Ravelry
Pattern: Thorpe by Kirsten Kapur of Through the loops!
Yarn: 70g Malabrigo Merino Worsted in Verde Adriana (151 yds), 5g Garnet for the edging, and 5g each Verde Adriana, Cactus Flower, Garnet, and Natural for the pompom and ties.
Needles: US 9 Addi Bamboo DPNs, 7 mm Crochet Hook
Finished Size: About 19" around
Date started: 12/19/08
Date completed: 12/20/08
Modifications: Knit at slightly smaller gauge, worked jogless garter stitch technique on the band, made 4-stranded square braids as ties, added pompom
See it on Ravelry!
I hope everyone had a great Christmas! I know we had a blast! I got to see my sister open her Fiddlehead Mittens which she loved, and also gave my niece this cute sweater and hat set. I've almost finished all my x-mas knitting, but luckily I still have time to finish up a few more things before we get together with our whole family for a late Christmas celebration in a couple of weeks.

I came up with the plan to knit this sweater and hat set for my niece, Jojo, about a week before Christmas when I realized I'd never get the other gift I had planned done in time. It took some quick knitting but I love how it turned out! The sweater is just about the cutest thing on her and fits her absolutely perfectly! There's a bit of extra length in the arms and body so it should (hopefully) fit her for awhile longer. I opted to make the cardigan version of this pattern; I thought it would be better that it can be easily taken off especially since Malabrigo isn't machine washable. I also love that it can be slipped on quickly. Jojo didn't want to sit still long enough for us to button it up, but I think the cardigan looks just as cute worn open.

This is the second time I've knit this pattern, and though I have loved the finished product each time, I haven't overly enjoyed the actual pattern. If you're looking for a pattern that lays out everything with step by step instructions this might not be the one for you. The color changes in the yoke are more guidelines than anything, so it really helps to use your gauge to figure out how many rows of each color you'll need and where to place the decreases in advance. When it came time to work the button bands, I was surprised to see there were no instructions on how to knit buttonholes or how many buttons to use. In the end I think if I have to do a lot of figuring anyways, I'll tackle an Elizabeth Zimmermann pattern next time I want to knit a seamless sweater.

After finishing up the sweater I decided to move onto a pattern I really love and have knit three times already —Thorpe. This hat turned out better than I even expected and knit up so quickly. I knit the same size that I had made for Camdyn before. It's a tad big on Jojo now but she'll be able to wear it for years to come. Of course I had to add a huge pompom on top—I think it ups the cuteness factor even more.

At first when I chose the color combo for the sweater and hat I thought it might be too Christmassy, but I really like how it all came together! My sister is a huge fan of pink, and the Cactus Flower Malabrigo is the perfect bright pink. I absolutely loved knitting with Malabrigo—I probably don't even have to mention that anymore. I'm totally addicted to this yarn!
This gift was a big hit and I'm excited for it to get lots of use. The weather's been colder than normal here in Las Vegas, and on Christmas night we even had a little snow flurry!