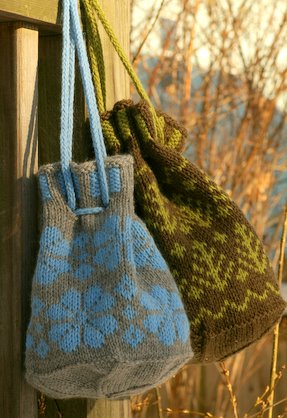 Project Specs
Pattern: Evergreen and Christmas Rose Gift Bags designed by Suzanne Atkinson
Pattern Source: Handknit Holidays by Melanie Falick
Yarn: Evergreen Bag - Patons Classic Merino, 61g Deep Olive (136 yds) and 42g Leaf Green (94 yds)
Christmas Rose Bag - Patons Classic Merino, 44g Gray Mix (98 yds); Cascade 220, 50g Robin Egg Blue (110 yds)
Needles: US 8 Denise needles and dpns, US 7 dpns for i-cord
Finished Size: Small; Evergreen Bag 7" diameter x 10" tall, Christmas Rose 7" diameter x 8.5" tall
Date started: 12/8/08
Date completed: 12/13/08
Modifications: For Evergreen bag changed eyelet row to "*k8, yo, k2tog; repeat from * around".
See them on Ravelry!

I hope everyone is having a great holiday season! I've finished my first round of presents, and with any luck they should be arriving to my family today. These little gift bags were part of the package I sent out to my aunts and uncles. They turned out even better than I hoped and will look perfect under the tree. I'm sure you've all heard me rant and rave about how great the book Handknit Holidays is. I really don't think I'll stop until I've knit every pattern in it, and even then I'll probably come back for more! It is the first place I turn to find ideas for quick gift knits, and it never disappoints.

These holiday bags knit up super quickly. If you started right now you could probably have one finished by tomorrow! The pattern is really flexible, with instructions for two sizes provided. It would be easy to scale them up or down, and I can just imagine how cute a pint-sized bag would look. The only thing I changed was the eyelet round on the second bag I knit. The pattern originally calls for you to bind off stitches, and then on the next round cast stitches back on. It was pretty tedious when I did this for the first bag, so I changed it to "*k8, yo, k2tog; repeat from * around". I also added one more knit round after the eyelet round. The eyelets are so much easier to create this way and are easily big enough for the i-cord ties.
It would also be really simple to change the color charts to customize the bag to the occasion or recipient. I thought that a simple stripe pattern like the one Alice used for her Holiday Stripes hat would be super cute. I'd also like to play around with different yarns; this pattern could be a real stash buster. I'm sure I'll be knitting this pattern a lot in the future.
I filled these bags each with a bag of fancy chocolates, a Celtics car magnet (Washington no longer has a basketball team, so I thought they could now root for my team), and a Boston postcard. The possibilities are endless, but no matter what you fill the bags with the present will feel special because you gave something handmade.