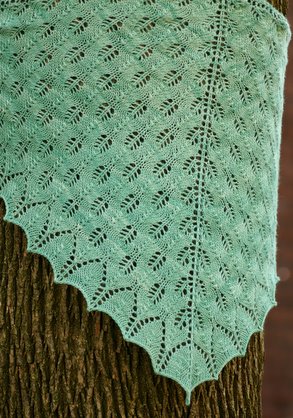 Project Specs
Pattern: Shetland Triangle by Evelyn A. Clark
Pattern Source: Wrap Style
Yarn: Malabrigo Silky Merino, 137g Spring Water (411 yds)
Needles: US 8 Denise needles
Finished Size: 54" x 28"
Date started: 9/25/08
Date completed: 10/1/08
See it on Ravelry!

I'm so glad I finally got around to knitting this pattern again! It's been about a year and half since I knit my first Shetland Triangle, and it's been in the back of my mind, calling me to knit it. I finally got the chance to cast on, this time as a present for my aunt. She is the first person I ever gave a knitted gift to and she really liked it! Like Alice said, it's great having family that loves hadknit gifts. I just hope I'll be able to get these present to everyone in time for Christmas! We've had a HUGE snow storm here in Quincy and I'm not sure I'll be able to make it to the post office.

I'm glad I took Alice's advice and used Malabrigo Silky. The combination of the shine, softness, subtle color variation that Malabrigo has perfected, all make this yarn gorgeous and perfect for lace knitting. It works great for more lacey patterns like this one as well as stockinette shawls like the Ellensburg Shawl Alice just knit. The weight of the yarn makes lace knitting just fly off the needles, and allows you to actually knit a shawl as a quick gift. I was pleased to find out how well Silky blocked too. Usually I have a problem with the smell of wet silk yarns, but the smell of Silky didn't bother me at all.

This shawl was just as fun to knit the second time around! The pattern is simple enough for any beginner lace knitter and interesting enough to hold anyone's attention. I have so many lace shawls in my queue, but for some reason this one just kept calling me to knit it again. Next year I'll venture out and try more lace patterns, but for now I just needed my Shetland Triangle fix.