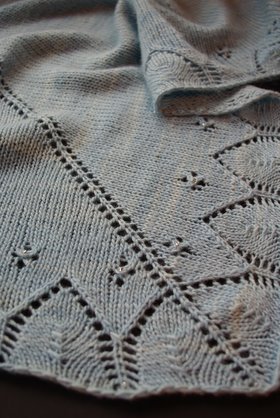 Project Specs
Pattern: The Ellensburg Shawl by Janelle Masters
Pattern Source: Dancing Ewe Yarns and Teas or from Janelle's Etsy shop
Yarn: Malabrigo Silky Merino, 2.5 Skeins (375 yards) Celeste colorway
Needles: Size US7 Denise needles
Date Started: 12/4/08
Date Finished: 12/12/08
Modifications: Worked to only 231 stitches before edging, did not block out points on edge
Extras: About 68 size 6.0 beads, clear with silver metallic centers (leftover from Camdyn's Tretta Hat)
See it on Ravelry!
The Christmas knitting continues! I'm in the final stretch and have a few more things to finish up before the big day. It's so hard because there are so many patterns I'm wanting to knit for myself right now that I'm having to force myself to stay on task.
This shawl is for my grandmother. I picked up the pattern at The Dancing Ewe on one of my visits back to Washington and decided it would make the perfect gift for her. It's named after the town I grew up in, and where most of my family still lives. It's also designed by a local designer, which I thought was pretty cool. Though it is simple, I really like the thought that was put into the borders. Both the "wildflowers" and "mountain and valley" borders really make me think of Ellensburg.

Though Grace has knit a few triangular shawls, this was my first. I have always been intimidated by shawl patterns and charts. This pattern was so simple though I couldn't believe it! The body of the shawl is basically stockinette. It isn't the most exciting knitting, but it's nice relaxing knitting. The borders are really fun and simple. The instructions are written out—which if you're intimidated by charts is a good thing—and easy enough that you don't have to look at them every row. If you choose to make the beaded version, there's even more excitement. I love the little bit of glimmer the beads add! There are just enough so they're kind of a fun little suprise.
I decided to make a slightly smaller shawl and worked to only 231 stitches before knitting the borders. This created a nice sized shawl that could be draped around your neck as a scarf, over your shoulders, or even on your lap for a little extra warmth. This would be a great pattern for other knitters looking to make their first shawl but a bit scared of intricate lace charts. I know I'm now ready to try to tackle something a little more adventurous!
I actually got to give this shawl a bit early to my grandmother last week on a quick visit home. I am really glad I got to see her reaction when she saw it. She loved it! She commented on how nice and soft it was (Silky Merino is always fantastic!) and loved the explanation of the lace patterns. I love having a family who really appreciates handknit gifts!