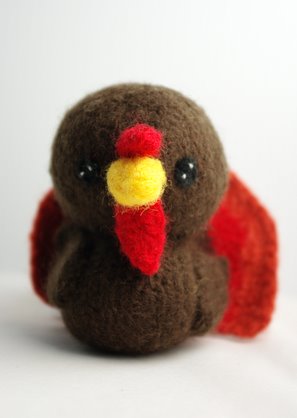 Project Specs
Pattern: Turkey
Pattern Source: Born in a Barn, Volume 4 from CraftyAlien.com
Yarn: Patons Classic Wool in Paprika, Bright Red, and Chestnut, Cascade 220 in Yellow (#7827)
Needles: Size US10 Bamboo DPNs
Date Started: 11/26/08
Date Finished: 11/27/08
Modifications: Worked beak, head, and body in the round, machine felted all pieces, needle felted on eyes.
See him on Ravelry!
Happy Thanksgiving everybody! I hope you're having a great day filled with family, fun, and lots of food! This year I'm not in charge of cooking the turkey, so I decided to knit one up instead.
I started this fella pretty late yesterday afternoon, so I tried a few things to cut down on the finishing. First, I knit the head, body, and beak in the round. This goes so much faster, and you don't have to worry about seaming him up later down the road! I also stuffed him (hehe) before felting (like I did with Aragog), and machine felted all the pieces in a zippered pillowcase. Everything felted pretty evenly, though on the head and body some holes were left where I did the increases. Luckily Grace gave me the tip to sew the holes closed with a single ply of matching wool. The holes aren't even noticeable and he looks perfect now!

I also sewed on all his appendages with matching wool. I love how this is almost totally invisible! The only thing I'm not 100% content with is his beak. It was really hard to get this yellow yarn to felt and I finally gave up. I still think it looks fine, though next time I might use a deeper yellow color instead. I'm really happy with how my turkey turned out, and I don't feel like I spent forever with finishing this time around. Yay!
I'm excited to present Camdyn with her little Thanksgiving surprise. He'll be sure to keep her busy while I'm chopping, mashing, and baking. Thanks everyone for being such awesome readers, and hanging around through our blogging break. We are so thankful for you guys!