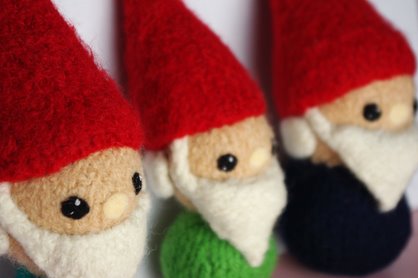 Project Specs
Pattern: Oh Gno! by Lisa Eberhart
Pattern Source: CraftyAlien.com
Yarn: Patons Classic Merino Wool in Camel, Winter White, and Bright Red, Cascade 220 Wool in 7813 (Teal, Normy Gnome), 7814 (Green, Lil Gnome), and 8393 (Dark Navy, Hefty Gnome)
Needles: US10 Bamboo DPNs
Date Started: 11/17/08
Date Finished: 11/19/08
Finished Dimensions: Lil Gnome 6" tall, Normy Gnome 7" tall, Hefty Gnome 7 ½" tall
Modifications: Worked the hats for all three gnomes in the round, needle felted on their noses
See them on Ravelry!


It's been a long time since I've knit up one of Crafty Alien's patterns, but when I saw these cute little gnomes I knew I had to get them on the needles right away. My mother loves gnomes of all sorts, so these guys are going to make the perfect stocking stuffers for her this Christmas!
The actual knitting for these patterns takes next to no time at all, but the whole process of creating these creatures takes forever—for me at least. I think my dislike for the finishing work is heightened because it's hard to make just one of these toys at a time. They're so cute I end up working on a few at once, and by the time I get the pieces felted, all sewn together, and the faces added the whole thing takes me days (and my fingers hurt like crazy!). I think that's one of the reasons I haven't made more of these patterns, even though I have purchased almost all of them.

I decided to make all three gnome versions that are included in the pattern—Lil Gnome, Normy Gnome, and Hefty Gnome. They're all so cute I can't decide which one is my favorite! Although the pattern calls for all the pieces to be knit flat, I knit all the hats in the round on DPNs which really sped that part up. I also needle felted on their felt noses because I couldn't find any matching thread. I'm thinking of adding some ribbon hangers to these guys so they can be used for ornaments for the holidays, but I'm not sure yet. I'm sure anyone who loves gnomes would appreciate one of these cuties as a gift any time of the year. The pattern also includes instructions for a little felted mushroom but I decided not to knit that up for now. I think these guys would look pretty cute displayed with a bunch of mushrooms knit up from Grace's mushroom pattern, actually!
I was really pleased that I didn't come across any errors in this pattern, which was an issue I had with some of the older Crafty Alien patterns. Also, if you register on CraftyAlien.com and purchase the pattern through there rather than Etsy, it's available to download instantly which is a big plus when you're itching to start in on the pattern right away. When I recover from knitting up these guys I think I'm going to knit up a turkey for Camdyn for Thanksgiving. She was such a great help with these guys during the felting process I think she deserves a little surprise!