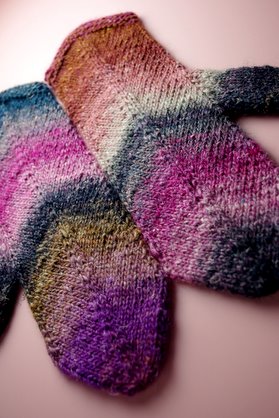 Project Specs
Pattern: Mitered Mittens
Pattern Source: Knitter's Almanac by Elizabeth Zimmermann
Yarn: 65g Noro Silk Garden #251 (160 yards)
Needles: US7 Clover Bamboo DPNs
Date Started: 11/10/08
Date Finished: 11/12/08
Finished Dimensions: 12" inches long, 3.75" across hand
Modifications: Added thumb gusset, ended mitten with 12 stitches rather than 8
See them on Ravelry!
When I made this pattern the first time I absolutely fell in love with it. And because my first pair is destined to be given away this Christmas, I decided I had to make myself some of my own. The second time around this pattern is just as fun to knit, and now I think I could probably knit it without even looking at the pattern! I used the same thumb mods as last time, which make these some of the best fitting mittens that I've made to date.

Noro Silk Garden has become one of my favorite yarns to work with. The quality does seem to vary depending on the colorway you're knitting with, but this time around I only encountered one knot while knitting—and it didn't actually join two different colors together! I always give my finished knits a nice soak in Kookaburra Wool Wash, and it really transforms the feel of this yarn and makes it perfect for next to skin wear.
Grace is always talking about how her Mitered Mittens are her favorite everyday mittens, and has already worn hers many times this Fall. I'm so happy I have a pair of these mittens to call my own—even if it's still not cold enough here to wear them yet. We're having almost record highs for this time of year in Las Vegas, with temps in the mid-to-high 70s. By the time Thanksgiving rolls around things are really supposed to cool down here, so I'll probably get to slip these on during early morning Black Friday shopping!